Arguing that crime is the most pernicious threat facing the country,  Georgetown Chamber President Clinton Urling on Friday called for changes at the top of the police force.
Speaking at the launching of the 2nd edition of the Business Directory Magazine at the Pegasus Hotel, he also said he would personally back a 100% increase in the salaries of policemen and women.
He noted that many have been calling for the resignation of Home Affairs Minister Clement Rohee, and that the leader of the Opposition, David Granger had called on organizations like the Georgetown Chamber of Commerce and Industry to urge Rohee's resignation. "However, getting rid of Rohee will not solve the problem, you're not going to see criminals shaking in their shoes saying 'Hey, Rohee's gone, we need to get our act together and not commit any crimes', I don't see that happening", he said.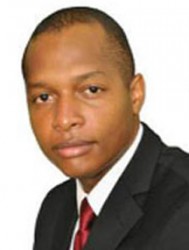 Urling contended that what should be heard from opposition politicians and those in civil society is for government to provide more resources and training opportunities for the Guyana Police Force.
"It is about time that the government and the Ministry of Home Affairs walk the walk and stop the talking when it comes to the GPF. We cannot have officers working with low morale because of poor and inadequate equipment, low salaries, out of date training, among other and expect miracles from them. We need to look at physical improvements, operational and strategic improvements and personnel improvements from within the GPF.  We have to look at boosting the morale and motivating our police officers. We need, for example, to pay our police officers better. I personally recommend a 100% increase on current salaries to the police men and women tasked at providing protection for us", Urling argued.
He also said that leadership change is needed at the top of the GPF.
"I have heard it privately from many quarters that there has to be leadership changes at the top of the GPF, I'm saying publicly that this is a position that I endorse. There are examples in the past where effective leadership change at the top of the GPF has resulted in increased effectiveness in the GPF", he said.
However, he said that  this must be done with the removal of the other structural hindrances to the force's effectiveness.
"In a nutshell we need to get serious with providing more resources for physical, strategic and personnel improvements at the GPF along with changes at the top", he said.
Around the Web