AFC Vice-Chairman Moses Nagamootoo has accused the PPP of stooping to race-based politics to mitigate the falling away of its Indo-Guyanese support base.
Nagamootoo alleged that pamphlets and handbills containing subliminal racial messages are being circulated by the PPP. Efforts to contact Clement Rohee, General Secretary of the PPP, for a comment on the accusation were unsuccessful as repeated calls to his phone went unanswered.
Calls to other high-ranking party members, including Presidential Advisor on Governance and Party Whip Gail Teixeira and Legal Affairs Minister Anil Nandlall, also went unanswered.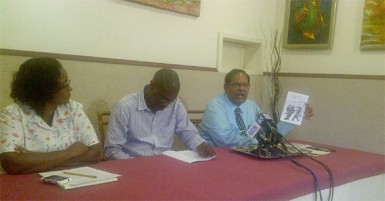 The accusation was made yesterday afternoon during the AFC's weekly press conference, where Nagamootoo showed reporters copies of the pamphlets and handbills, which he said were circulated in Enmore, on the East Coast of Demerara recently.
These undertakings, Nagamootoo suggested, may be aimed at bolstering support for the party ahead of its October 5th celebrations to mark its rise to government power in 1992.
Nagamootoo, a former member of the PPP said that the party has realised that its Indo-Guyanese support base continues to dwindle as many former supporters either opt to vote for one of the opposition parties or abstain from voting all together.
As a result, he said, the PPP is attempting to stop its traditional supporters from turning their backs on the party, or at the very least, convince them not to vote for the other party options.
Nagamootoo charged that the party has gone into a particular community, telling its inhabitants that the people of Linden continue to benefit from almost free electricity, while the AFC has voted down the Amaila Project which would have created better electricity tariffs for "other sections of society."
Such acts are "divisive and racist," Nagamootoo exclaimed and he added that the perpetrators are likely aiming to destroy the national unity that has been achieved over the years. He described the current PPP party as "pseudo-PPP," arguing that the PPP of the late President Cheddi Jagan would never have stooped to such actions.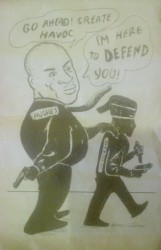 Nagamootoo was of the opinion that the PPP has nothing to celebrate, while charging that Guyana's debt is higher than it was under the pre-1992 PNC government and also decrying all of the major projects undertaken by the PPP/C government.
He lamented that fact that foreign diplomats, including the United States Ambassador Brent Hardt, have had to criticise the way in which the PPP/C is governing.
Hardt has criticised the delay in the holding of local government elections and the absence of prosecutions of officials for corruption and other malfeasance. The government has been blamed by the opposition parties for both situations.
Around the Web