Guyana and Barbados yesterday agreed to formalise a system for handling immigration concerns, while at the same time both countries hailed the drop in complaints by Guyanese over mistreatment by Barbadian authorities.
"We have agreed, as ministers, that an MOU would be concluded to cover the various modalities [of]… the relationship between our two countries as it relates to immigration," Barbados' Foreign Affairs Minister Maxine McClean told a news conference at the International Conference Centre at Liliendaal.
McClean's declaration came at the end of a meeting of the Guyana-Barbados Joint Commission on issues in the areas of education, immigration, agriculture, investment and exports where pledges were made for a continued bilateral approach.
McClean said that while the public believes large numbers of persons are refused entry into Barbados of the high publicity refusals are given by the media, they were far less. "We would have had a period where the media sought to play up the
issues which have occurred from time to time, but look at the statistics," she said.
The table below shows the year and the numbers of arrivals and refusals: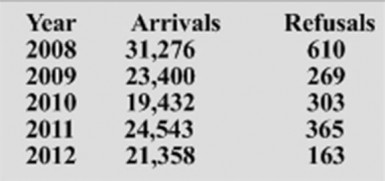 Foreign Affairs Minister Carolyn Rodrigues-Birkett said that for the past two years no one had visited her ministry seeking redress on refusal issues. "I will not stay silent… We have not had such reports in the last two years," she said.
In addition, both ministers announced that there will also be benefits to this country's fisheries sector as agreement has been reached on a deal which will see the overlapping of the maritime zones.
Agriculture will see the strengthening of relations and the so-far successful Santé Fe Farm was used as a model to attract future investments.
Rodrigues-Birkett also pointed out that five scholarships will be offered to Barbadian students at the Guyana School of Agriculture while Guyana will send hydrometeorological officers to Barbados to be trained. The Barbadians will also offer their expertise in pigs and black belly sheep rearing on a large scale.
The education sector will also see integration as select schools will be twinned and teachers and curriculum shared with a focus on applied arts and sciences. "There is polytechnics [in] both curriculum and online courses and they have agreed to share with us that experience," Rodrigues-Birkett stated.
This is the second meeting of the commission which was set up following the signing of an agreement between the Prime Ministers of Guyana and Barbados on July 5, 2002. The agreement made clear the two countries' ambitions to deepen bilateral cooperation in areas of mutual interest, and specified areas in which that cooperation would be focused.
It also established the Joint Commission and tasked it with the responsibility of identifying projects on which the two states would cooperate.
The first meeting of the Inaugural Joint Commission was hosted in October 2007 during which about 20 initiatives, including tourism, hospitality, agriculture and fisheries, maritime administration, marine affairs and immigration were identified for exploration.
Since that meeting, hosted by Guyana nearly six years ago, no further meetings had taken place until yesterday, a reality which both ministers lamented.
McClean said that the six years' hiatus between the first and yesterday's meetings was unacceptable, and committed herself to working more diligently towards the goals set out in 2002, especially considering the fact that existing issues in the international arena continue to pose serious challenges to developing countries such as Guyana and Barbados.
Elaborating a bit on such challenges, Rodrigues-Birkett shared that the global economic crisis continues to take a toll on the developed and developing world. As a result, developing countries have been hit with several backlashes including soaring oil prices which had led to increased electricity tariffs.
Additionally, the amount of aid once made available by traditional donors continues to decline, forcing developing countries which depend on this aid to seek out alternative development avenues.
In such conditions, Rodrigues-Birkett said, the deepening of South-South relationships between countries in the Caribbean and Latin America has become imperative, and such relationships have become the main focus of many developing countries.
Deeper bilateral relationships are even important within the context of the Caribbean Community (Caricom). Rodrigues-Birkett explained that while there are differences among Caricom countries, these countries are capable of cooperating better with each other.
It is this rationale which informed Guyana's decision to establish deeper relations with Barbados, the minister said. Aside from the commission, in 2012, Guyana established a Consul General's Office in Barbados which is headed by senior career diplomat Michael Brotherson.
Around the Web