A Guyanese father and son, who reportedly went on a "robbery spree" on the Venezuelan border close to Guyana, were on Thursday evening shot dead by Venezuelan soldiers after the duo reportedly opened fire on them.
According to reports, 52-year-old Orlando Fitzgerald and his 17-year-old son, Jesse, were shot dead after they refused to stop at a checkpoint and when warning shots were fired at their boat by the soldiers they returned fire. Reports from the area say that one Venezuelan soldier was killed in the incident.
While the relatives of the two are saying that the men were robbed and then killed, Guyanese from that area said the men were escaping after robbing several persons in a spree that started since August.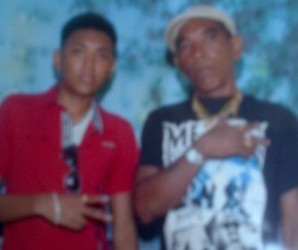 One of their alleged victims is a 37-year-old man, who is known to the men as his father grew up with the elder Fitzgerald in Wauna village in the North West. He was shot in an encounter with the men on August 28th and today he is still laid up in bed and lamenting that the men later chased his workers from his dredge and took  control of it.
"I report to the Mabaruma Police Station when I come out but they say that it happen in Venezuela and they can't do nothing so I say I would just leave it as it is. Them men run out me workers and me cousin and send message how dem teking me gold to buy more gun. They rob up nuff more people and start like a lil gang," the man, who did not want to be named, told this newspaper yesterday from his bed.
However, the wife and mother of the two, Marlyn Allick, is strenuously denying the reports of robbery, arguing that the father and son are being framed. She told Stabroek News that the two were beaten and shot and robbed of a large quantity of gold that they had on their person.
The woman, who said her husband was a "good man and would never do something like that", said that the men making the allegations are known to them and she could not understand why they would make false claims. She had heard of the alleged incident with the Wauna miner but was unable to raise it with her husband before.
Allick is alleging that a shop owner in Venezuela had taken ill and had left her son to operate the shop while he was away. During the shop owner's absence the wife said she was told that  two men approached her son and asked to credit some items and he refused.
"They point a gun to his face and then me husband see and must be the same gun he tek and shoot one a dem because he been protecting he son," the woman said.
"It was nothing but no robbery, me husband would never rob anybody," the woman said as she burst into tears.
Generator
According to the 37-year-old man and his brother, who was also in the area when the incident occurred in August,  he never sought to credit any item from the shop while the owner way away but revealed that there was an initial issue involving a generator. He said he and others were drinking at the shop when the son wanted to turn off the generator in an effort to force them to leave.
"He turn off the lighting plant and me brother put it on back and is suh the story start but we later lef," he said.
Sometime later he sent someone to purchase an item at the shop and the father sent a message stating that they had guns now and they were ready for a confrontation.
"After hearing this I went to the shop to find out what really happening because you know I grow up around this man and we didn't want no story," the man said.
At the time it was himself, two other brothers, his father and a cousin, and he said even before he could speak the father and son pointed guns at them and the father instructed his son to shoot him which he did.
"He fire and the bullet scrape me head and then the father shoot me and I fall down bleeding," the dredge owner said, adding that the two then trained the guns at the others and told them not to move even as his father begged them to save their lives.
While they were concentrating on the other men, the dredge owner said his father managed to get him to safety and he later returned to check on the others and it was then he was beaten and gun butted in his face by the father and son who demanded to know about the gold.
"Me father said they rob he of a silver ring and some money he had and then throw he in a room for like a hour and he been praying," the man said.
Later, the other men escaped and the two released the father who arranged to bring his injured son to Guyana and he was later transported to Georgetown where he learnt that a bullet had entered through his neck and is now lodged just above his spine. Doctors are advising that it not be removed because it might have life-threatening implications. Another bullet also broke his collar bone and his left arm was in a cast up to October 2nd.
In the meantime, while the dredge owner was battling for his life his cousin who he had left in charge of his 4-inch dredge said he was chased  out of the area by the father and son and just as his workers were about to "wash down" they were also sent scurrying and the father and son claimed the gold.
"Dem even tell me workers to tell me how dem using the gold to buy more guns," the man said.
The family added that they later learnt that the duo had robbed and beaten other people.
"But even all of this I said look I fighting for my life and I never really report this thing after the police dem tell me dem can't do nothing," the man said, even as he pointed out that he lost everything including some items he had in a just opened shop.
A brother who was about to start a goldsmith business in the area also lost all of his tools.
"I work hard, me and my girl work hard and now is everything we lose and I have start over from scratch but I still sorry for what happened to them, I never pray for nothing like that happen to them," he said.
Other relatives in the man's home also offered condolences to the family saying that they would not have wished death on them.
June
Meanwhile, the grieving Allick told Stabroek News that her husband and son left Guyana in June to mine gold on the border and while she had seen her husband in July as he had returned home for medical treatment she had not seen her son since.
The woman said she did not hear from the two but she was accustomed to this as her husband would be away from home for months at times because of the nature of the work. She received a call from him early Thursday evening informing that he was returning to Guyana and that she should call him at his mother in Wauna in the North West District. She tried calling him the following morning but got no answer and later his mother told her that he had not arrived. A few hours later his mother informed her that she heard that they were shot but initially the wife said she had not believed.
However, another call, this time from his sister in Venezuela, confirmed that the man and son were killed during a "shoot-out."
"I really don't know what happened," the mother of four said adding that she was told that it was Venezuelan soldiers who returned the bodies to that country.
She said she was told that four persons were in the boat at the time and she questioned how it is that only her husband and son were shot.
"Why my husband and son and not the other two in the boat? That is what is getting to me and it leave me puzzled," she said.
From reports she had received, Allick said she was told that her son had a scuffle with one of the men and her husband intervened and he was shot dead.
The 41-year-old said she has been with Fitzpatrick for 21 years and that he was the sole breadwinner of the house.
"I don't work, I work nowhere, I telling you is everything they tek, everything. I just asking God to give me strength but I don't know where to turn," the grieving mother of four said.
Around the Web