A popular Hampshire businessman was gunned down in his home yesterday around 7 pm by armed bandits who also chopped his wife and shot her father before escaping reportedly with millions in cash and jewellery.
Dead is Dave Deodat, 35, of Lot 72 Hampshire Squatting Area, Corentyne Berbice.  His wife Shaneeza Deodat is in a critical condition,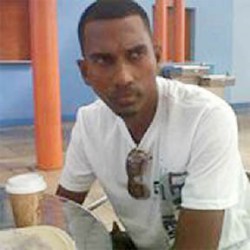 while his father-in-law Rafeek Kapoor called 'King' is stable.
The couple's two children, Sarita 14 and Junior 8, were unhurt and it is believed that they hid in the home during the ordeal.
According to unconfirmed reports, Dave Deodat was shot to his neck and chopped on his left hand; his wife sustained a chop to her head, while her father was shot in his shoulder.
Shaneeza Deodat and Kapoor were taken to the Anamayha Memorial Hospital at Belvedere where they were receiving medical attention up to press time.
Stabroek News was told that the Deodats operated a shop while the deceased was also a sand vendor and owned several trucks with the brand 'Cool Runnings'.
Shaneeza Deodat's aunt Kamal Ramoo who lives a few houses away from her niece recalled that when she heard the first gunshot, she called the Rose Hall Town police outpost, but was told that the officers were out on patrol. She then made calls to the Albion and Whim police stations and was told the same thing.
After the gunfire ended, the woman said, she ventured over to her niece's home and found her outside the house bleeding profusely. Kapoor was out on the dam also bleeding.
Neighbours then approached, she said and a few of them took Kapoor and his daughter to the hospital.
Ramoo said Kapoor was not at his daughter's home, but had gone to her assistance after he realised that she and her family were under attack. She surmised that he must have encountered the bandits as they were leaving.
Ramoo said that when she ventured inside her niece's home, she found Dave Deodat "sitting on a chair in his downstairs dining room". She said the gold rings he usually wore were missing and he was motionless.
From all indications, the man was shot in front of the bottom flat door and dragged into the house where he was placed on the chair to sit. There was a pool of blood around him and bloody footprints led from there to the gate.
Reports are that as the bandits fled they shot off a round, possibly to scare neighbours.
Last evening, hundreds of villagers converge at the scene and many expressed anger at the police.
The Deodats' home is well secured by iron grills and security cameras and the police are hoping that the cameras would have recorded the attacks.
Deodat's is the third death of businessman on the Corentyne in a short period of time. In September, rice mill owner Lallapersaud Juggerdeo, 74, was shot dead while chasing off bandits who had invaded his home. A week later Abdul Majid, 74, was strangled to death by bandits who pretended to be customers. Majid owned a hardware store.
Police investigations are continuing.
Around the Web