The two women who were held in connection with last Thursday's attack on Industry resident Linda Phillips have been released from police custody.
Stabroek News understands that the two were in custody since the attack last Thursday and were released as the maximum 72 hours they could be held without a charge were up. The women were released on station bail.
One of the women's attorney Sanjeev Datadin had told Stabroek News that his client had vehemently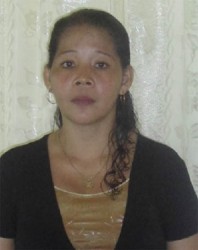 denied any involvement in the attack. "My client knows nothing about this attack on this woman.
She knows the woman who they detained, but she has denied any involvement in this attack," the lawyer said.
Phillips yesterday said that it hurts her to think that the persons behind the attack were released. "What more evidence do the police want…she get catch red-handed by my neighbours, they are just going to give them time to disappear. I cry whole day today when I read the papers that they loose them," the woman said.
Phillips had recounted that the woman who carried out the attack claimed she had just returned from Cuba and had approached her under the pretext of carrying out a medical outreach in the area. After gaining her trust, the woman and her male accomplice entered her home where they carried out the attack. She was stabbed five times in her back and collapsed at her front gate after which she was rushed to the Georgetown Public Hospital.
Around the Web