More than one year since the launch of Guyana's first grid-connected solar photovoltaic net-metering system, the Guyana Energy Agency (GEA) has announced that it has saved more than $1M in electricity costs.
The system has also positively impacted on the environment by avoiding the release of more than 9,740kg of carbon dioxide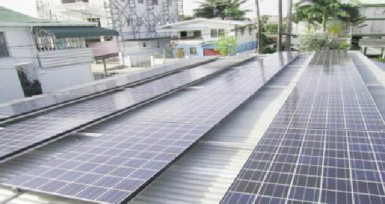 (a green house gas) while at the same time demonstrating that the GPL grid is stable enough and the metering mechanism capable of facilitating a net-metering platform, the GEA said in a press release.
"Guyana usually receives abundant sunshine and has, for many years, been using solar photovoltaic panels for a number of applications, primarily in remote areas without access to a grid," the GEA said. The agency, with support from GIZ, the German Society for International Cooperation, and funding from the Austrian Develop-ment Cooperation, installed an 8.46kW grid-tie solar photovoltaic demonstration project in 2012 at a cost of $6.9 million.
"The system was installed to promote the use of renewable energy in Guyana, gain understanding of grid tie technologies and demonstrate the use and application of solar photovoltaic grid tie technology," GEA chief executive officer Dr Mahender Sharma is quoted as saying in the release.
The energy supplied from the solar panels is about 20% of the energy required by the load of the building.
During a regular business day, the grid-tie inverter senses the amount of energy coming from the solar panels, measures the amount of energy being consumed by the building, then takes the difference from the grid.
On holidays and weekends, when the load of the building is less than the power supplied from the solar panels, most of the energy is supplied to the grid.
The grid-tie inverter is also designed to quickly disconnect from the grid if the utility grid goes down.
Currently, the system is operating on a net-metering arrangement with GPL, using the existing Itron meter.
A module upgrade was sourced and installed, allowing the existing meter to now read energy received from the grid, energy supplied to the grid and net energy consumed by the load of the building, the agency said. The GEA is committed to its vision of ensuring Guyana's energy security through access to reliable energy that is economically, environmentally and socially sustainable.
Therefore, the agency will continue to research all sources of energy including those currently used here. These efforts are aimed at securing and encouraging more efficient utilization of energy and sources of energy in the public's interest. The GEA also seeks to develop and promote the development and usage of sources of energy other than those currently in use.
The operation and benefits of the solar photovoltaic net-metering system can be viewed at http:// eguage2733. eguage.es and at the GEA's websitewww.gea. gov.gy
Around the Web