John Lewis Styles celebrated its 10th anniversary on Thursday by donating $1M to seven non-governmental organisations.
The Ptolemy Reid Rehabilitation Centre, The Salvation Army, Help & Shelter, the Guyana Kids First Fund, NCN Radio's Needy Children's Fund,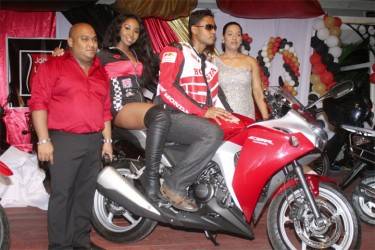 the Guyana Relief Council and the Roman Catholic Diocese of Georgetown were the recipients of the donations.
"We recognise the hard work and dedication each organisation exhibits on all projects and we are pleased to be associated with their efforts," a press statement from John Lewis Styles said. "This donation highlights our social and ethical responsibilities to society in being a good corporate citizen," the statement added, while noting the store's commitment to maintain the Waterloo Street Avenue between Quamina and Church streets.
The commitment is part of the store management's beautification project, in which it gives back to the community through landscaping, private garbage collection and street lights.
To mark its anniversary, the store has also launched its 'Win 10 Bikes' promotion, which starts October 14.
According to the statement, the promotion will run for a 10-week period from October 14 to December 27.
Every week one customer will be the winner of a motorcycle. Customers need to spend $5,000 in order to be eligible for the promotion.
The store also announced plans to begin a children's department in December. It noted that it would be completing its building in the near future by adding two more floors to the existing store and expanding the product lines as the space becomes available.
Around the Web