Some small businesses and start-ups are poised to benefit from better access to financing and technical and entrepreneurial training under the government's new US$10 million Micro and Small Enterprise (MSE) Development Project that was launched yesterday.
Micro and small enterprises whose operations lend to the creation of a more green economy will the primary beneficiaries of the project, which is being funded by the Guyana-Norway forest partnership. Although US$10 million has been allocated for the project, the funding will be done in phases, with US$5 million to be used in the first phase of the project, which is expected to last for two years and create and sustain an estimated 2,200 jobs.
The launch was held at the Guyana International Conference Centre, at Liliendaal, where many stakeholders, including existing and prospective small and micro business owners, turned up to hear what benefits loom.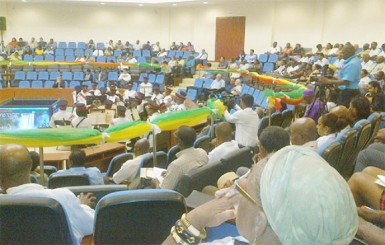 The project is expected to address what is considered to be two major bottlenecks which constrain the development of micro and small enterprises, and the ability of vulnerable groups to build alternative livelihoods in Guyana: limited access to finance, and limited technical and business skills.
It will be implemented by the recently-established Small Business Bureau (SBB) of the Ministry of Industry and Commerce and the Inter-American Development Bank (IDB) will be partnering with the SBB to administer social, fiduciary and environmental safeguards for the venture. Speaking at the launch yesterday, IDB Division Chief for Capital Markets and Finance Juan Ketterer said that he considered access to finance a key pillar in promoting a healthy business atmosphere, and noted that the problem of accessing financing by small and micro enterprises is faced globally, particularly in Latin America and the Caribbean.
Chief Executive Officer (CEO) of the Guyana Bank for Trade and Industry (GBTI) John Tracey, who also spoke at the launch, said that there are several factors which impede micro and small businesses' access to finances. Many lenders, he explain-ed, have limited resources and are not keen on offering these resources to small businesses. As a result, many small business operators believe lending institutions to be unfriendly, but Tracey said the hesitance about lending is due to the perceived risk involved in lending to entities which operate on the small and micro scales.
Because of the risks which abound, Tracey added, banks often forego opportunities to channel funds in the direction of small and micro operators and instead opt lend to larger businesses, where the risks are smaller, and the guarantee that the investment will yield profits is sounder. This reality impedes the ability of small businesses to source funds for the expansion of their operations, as well as those looking for the necessary financing to start new ventures.
This is just one of the reasons this project is seen as so important. The ability to expand and start new businesses, MSE Specialist Manoharan Kamaleson of the SBB yesterday said, will lead to the creation of new jobs and overall economic development.
He noted that between 2005 and 2007, 80% of Canada's exports were generated by small businesses. Further, of all of Canada's exporters, 86% are small businesses, and in 2009, Cdn$68 billion, which was 25% of export generated revenue that year, was generated by small businesses. Aside from the generation of revenue via trade, small businesses are some of the largest employers. Kamaleson said that 90% of India's workforce is employed by the small and micro business sectors. In neighbouring Brazil, 56% of the work force depends of the small businesses for employment.
These achievements paint a picture of the gains that can be realised in Guyana's economy if the right initiatives are taken.  And this is what the new project aims to do, Kamaleson said, while noting that 12 low carbon sectors have been identified and will therefore benefit from the project.
The sectors have been divided into two categories – Priority Sectors and Other sectors. Establishments under the Priority Sectors include those involved in Agriculture, Aquaculture, Hydroponics, Eco Tourism and the production of Bioethanol. Eleven areas under Other Sectors will be targeted.
The project, as it looks to improve access to finance and capacity building, will be offering several products to prospective small and micro enterprises. To be considered a micro business, an entity must be registered, have 10 or fewer employees, register gross revenue of $30 million or less, and its total assets should amount to $10 million or less.
Small businesses are so classified if they employ 25 or fewer employees, are recording gross revenues of $60 million or less, and possess total assets that do not exceed $20 million.
President Donald Ramotar, who was present at the launch, said that its provisions, combined with the flexibility, innovation and low operation costs demonstrated by Guyana's small and micro enterprises, will lead to many improvements.
Grants
Kamaleson told stakeholders that $30 million will be made available through three financial institutions, including GBTI, Republic Bank and the Institute for Private Enterprise Development (IPED). So far, only GBTI has signed on to the project but the project's managers are hoping to have the Republic Bank and IPED onboard before too long.
Through negotiations, finances solicited from these institutions are expected to carry interest rates below 6%. Additionally, grants of up to $300,000 will be available for expanding existing businesses and for starting up new ventures.
The grant products will be made available through the SBB. The project will also facilitate training for businesses in the identified sectors. Aside from training in agriculture, hydroponics etc., existing small businesses owners and those hoping to start up new ventures will be given instructions on the creation of business plans. These instructions are especially important since an acceptable business plan is a prerequisite for grant products.
Kamaleson and the project's developers are convinced that the MSE project will have positive impacts. He said that once effectively implemented, the project will successfully improve the effectiveness of small businesses in the low-carbon sector. As these businesses improve, and as new ones emerge, jobs will be created, enabling, more persons to join the work force and also placing less strain on government to create jobs.
Financial Director of the Private Sectors Commis-sion (PSC) Ramesh Persaud, during his presentation yesterday, lauded the initiative. He noted that the credit guarantee, interest rate subsidy, small grants and training initiatives that will be made available will go a far way towards mitigating the popular pitfalls which plague the small and micro business sectors.
Considering the fact that the project will bolster the attempts to move further towards a green economy, IDB Country Representa-tive Sophie Makonnen said that development has come at the expense of the environment for too long. She said that though such development has risen many people out of poverty, such development can no longer be pursued. Following Makonnen's statements, Finance Minis-ter Ashni Singh highlighted past perceptions that development could only be achieved by fully exploiting the environment. He said though, that "these project aims to change that."
Around the Web