A 12-member jury was on Thursday empaneled for the retrial of Cyon Collier, called 'Picture Boy, who is accused of murdering two Victoria brothers in 2006.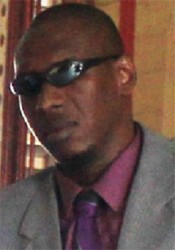 Justice Navindra Singh is presiding over the trial, while attorney Lyndon Amsterdam is representing Collier, and senior state counsel Judith Gildharie-Mursalin is presenting the state's case.
Collier is accused of killing Ray Walcott, called 'Sugar', and his younger brother, Carl Andrews, called 'Alo,' at Victoria, East Coast Demerara on September 23, 2006. The two men were standing at the corner of a road watching a game of dominoes, when it is alleged that the accused, dressed in black clothing and with a gun slung across his back, rode up on a motorcycle.
Collier then allegedly began talking with the men after which he started shooting, and Walcott and Andrews were fatally shot.
Around the Web