Randy Jagdeo, the suspect in the murder of biker Kirk Davis, who managed to evade capture for almost two months, turned himself in to the police today in the company of a lawyer, a senior police official has confirmed.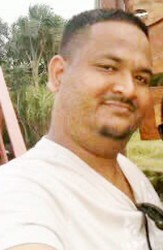 There were reports that Jagdeo, a Water Street businessman, had fled to Suriname – a country he was very familiar with having travelled there frequently – after Davis was gunned down on September 3 at Eccles, East Bank Demerara.
Based on reports, Jagdeo had gone to Davis's home to settle a matter. Reports are that when Jagdeo and a woman arrived, Davis entered the car they were in. Shortly after this, a female voice was heard screaming and then the driver got out of the vehicle, opened the backdoor and began shooting.
The man then reportedly pulled the wounded Davis out of the car and fired several more shots before driving off. Davis was said to have been shot about 16 times. The woman, who was also reportedly wounded in the shooting, was subsequently admitted as a patient of a private hospital. After her release she was arrested for questioning.
Relatives of Davis had expressed outrage that although Jagdeo was identified as the shooter immediately after the shooting police failed to take steps to have him arrested.
At a vigil in front of the Brickdam Police Station Police Commissioner Leroy Brumell had named Jagdeo as the suspect and said that everything was being done to apprehend him.
Local police had sent photographs and other information to their counterparts in Suriname.
Around the Web