A young man was killed after the blade of a grinding machine he was working on broke off and struck him in the stomach, piercing his heart on Sunday at Victoria, East Coast Demerara.
An autopsy found that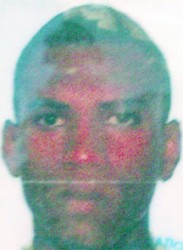 , 21, of Lot XX 13 North East La Penitence died of a punctured heart caused by a sharp object. The police have since been treating his death as an industrial accident.
"He told my son to move from in front of the machine because fire was pitching… and then as soon as my boy move there was a sharp sound and Akeem holler, 'ow, ow me dead…I dead,'" said a man who lived in the yard where Akeem was working. "There are three houses in the yard and my father hire them to make his fence," he said.
The man said that they had immediately rushed Holder to the Georgetown Public Hospital Corpora-tion. "We didn't hesitate," he noted.
He stated that Holder's family came to his home and he had given them $100,000 to help them put the body in a funeral home, promising to help them with more money for funeral arrangements. "As human beings I felt it for them 'cause I'm thinking what if it had happen to me," he said.
He described Holder as a mannerly young man.
Holder's mother, Norma Paul, said she had received a call early Sunday morning from a woman who told her that her son was involved in an accident at work. "She told me that Akeem was in an accident and it was serious and I should go down to the hospital. He is a good boy…he ain't get a bad reputation and plus he has two little children," Paul said.
Holder died at the hospital while doctors tried desperately to save his life. "He was my buddy. When I heard the news I couldn't believe it…all he was trying to do was elevate himself," a friend of Holder said.
Around the Web