By Kenesha Fraser
Triplets Radha, Rajshri and Reenica Mansaran of Land of Plenty, Essequibo Coast turned 19 on Saturday last and celebrated on Sunday with a church service and the donation of a food hamper to a less fortunate family in the area.
Born to Devika Persaud, 19 years ago at the Woodlands Hospital in Georgetown, the girls who were described as kind, obedient and loving, grew up on the Essequibo Coast.
Their proud mother recalled: "When I went into labour, the doctor didn't know it was triplets. But then after a little while he said I will be having triplets."
She said it was difficult but she managed. "I was living with their father in Georgetown… and I couldn't take his attitude so we separated and I came to live in Essequibo. All of their schooling was right here in Essequibo and by God's grace we made it through." Persaud and her children moved to Land of Plenty when her triplets were just four months old.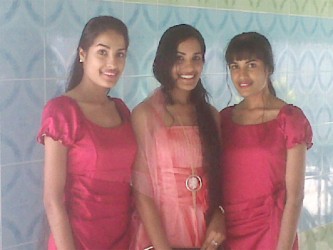 She received help and support from close family and friends, but by the time the girls were in primary school, she took as job as a domestic to help make ends meet. "When my children got older, I started to work as a security guard and that made me go far ahead with my children until they finish school," she said. Persaud is still a security guard today.
The three young ladies, who were happy to be interviewed, told this publication that even though they quarrel sometimes like most siblings do, they love each and cherish other dearly.
Radha, who is clearly the most talkative of the three, said that she is brave and outgoing. "We all have our different chores to do, but I do all the cooking and if my sisters are tired, I help them with their chores," she said. "In our spare time we crack jokes, talk about how we grew up and hang out with friends if we are not working."
But just how close are these sisters? Would they, for example, feel each other's pain the way twins do? Reenica promptly replied "Yes we do. If I am sick today, Rajshri will get sick the other day then Radha. It goes in a cycle."
Rajshri, who does the laundry, said that she and Radha are most alike and they also think alike too. "We were in the same… [sac in their mother's uterus] while Reenica was in a different one but we all get along well," she said.
All three of the girls are currently employed; Radha at DJ Electronics, Reenica as a supervisor at DJ Furniture Store and Rajshri at a printery in Anna Regina.
Their mother said she has help paying the bills since all three of the girls are working. She commented that God has been good to her and she is happy that her daughters all go to church and are grounded in Christ.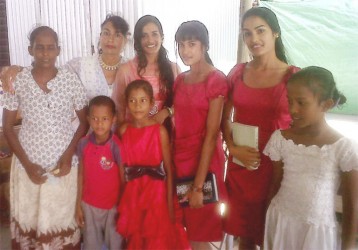 The girls who distributed a food hamper to a family and shared sweets to the children at their church, the Bible Baptist Church at Bush Lot, Essequibo Coast, were praised by their mother for their kind acts. "I always teach them to be kind and I am happy that they could have done that," she said.
"As they get older, they get closer. They love to share with each other. Their birthday was [Saturday] and they exchanged gifts. I don't really quarrel with them, but I'm very up to date with my house. I like to keep my surroundings clean and they are very co-operative and obedient."
They have an older sibling, Kavita, who lives in Georgetown and according to Persaud, she is very supportive of her sisters.
Around the Web