The preliminary inquiry into the murder charge against Water Street businessman Rondy Jagdeo, who is accused of the fatal shooting of his close friend, will begin on February 5, 2014.
Jagdeo, who is charged with murdering biker Kirk Davis, 31, who was riddled with bullets in front of his home, was further remanded when he appeared at the Georgetown Magistrates' Court last week.
He has not been required to plead to the capital charge.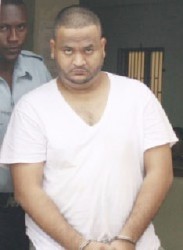 Police Prosecutor Bharat Mangru had told the court at the arraignment last month that Jagdeo had confronted Davis, who was accused of kissing his wife on her neck at Palm Court. The prosecutor said that on September 3, Jagdeo drove up in front of Davis's house at Eccles and Davis entered the backseat. He said Jagdeo exited the driver's side of the car with what appeared to be a gun, opened the backseat door and shot Davis. Davis's body, Mangru said, was dumped out of the vehicle and Jagdeo drove away. Davis was then picked up from his bridge and rushed to the Georgetown Public Hospital, where he died. A post-mortem examination found that Davis was shot 16 times.
Mangru had stated that October 28, nearly two months after the murder, Jagdeo turned himself in to the police. He added that so far the police had six witnesses to testify against Jagdeo. He also asked the magistrate for three weeks to complete their investigations.
Around the Web