A 17-year-old of Suddie, Essequibo Coast died yesterday at the Suddie Public Hospital as a result of reportedly having ingested a poisonous substance a few days ago.
Khavita Rambajue, a former student of the Anna Regina Secondary School, reportedly drank the substance on November 25 and had been a patient at the Suddie Public Hospital since then.
Her father, Ramsahoye Rambajue a prosecutor at the Georgetown Magistrates Courts, told this newspaper that his daughter was at home alone when she ingested the substance. "When I came home from Anna Regina, the house was locked up so I called for her since she was upstairs and then she told me that she wasn't feeling well. She also said that she had drunk something.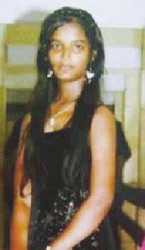 I asked her what it was and she brought the bottle to me. It was a green liquid and I suspected it to be poison. I immediately took her to the Suddie hospital," Rambajue said.
He added that Khavita had started to recover and was doing fairly well.  "She started talking and walking around but because I didn't want to pressure her, I didn't ask why she drank the poison. When they did the x-ray, they said that her lungs were infected."
Khavita, who recently wrote CSEC examinations, secured 11 passes: six grade ones, two grade twos and three grade threes. She died at 4.50 am yesterday.
Around the Web