By Marcelle Thomas
The Doobay Renal Centre is hoping to partner with government on kidney transplants in the near future as part of its continued healthcare expansion.
However, Dr Alistair Ingram, Director of the Division of Nephrology at McMaster University in Canada—one of the not for profit's biggest donor partners—says that given the fragility of patients during aftercare, meticulous plans would first have to be implemented to lower the odds of fatalities.
"We would like to see renal transplants started here. We would like to involve the Ministry of Health and the Georgetown Public Hospital but this must be done properly," Ingram told Stabroek News.
"The actual operation itself is probably the simplest part. The identification of the donor and making sure that the donor is healthy enough to donate and the recipient is healthy enough to receive and the follow-up afterwards, those are the tricky parts and that is what needs to be in place," he added.
Ingram was in Guyana recently as part of the Doobay Renal Centre's continued medical volunteer programme with McMaster University. Ingram informed that he and Director of the centre Dr Budhendranauth Doobay will be meeting Minister of Health Dr Bheri Ramsaran and on their agenda would be the two entities collaborating to put measures in place for kidney transplants.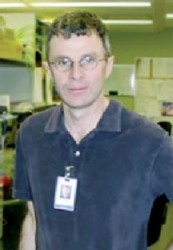 He said that for a sparsely populated country, the number of patients with renal failure was too high and that that for doctors at McMaster it is "heartbreaking" to see persons, especially the young, on dialysis.
He added it would be worse to have fatalities, which is why adequate after care and strict monitoring and follow ups, at least one year after transplants, are needed. As a result, he stressed the importance of getting pre-operational care here "in order" before even thinking about actual kidney transplant surgeries.
"We need to do things right. We don't just want to come down here and do a bunch of operations and have a bunch of transplants, but that is something that we would really, really like to get into because it is heartbreaking to see a bunch of young people on dialysis," he stated.
As Doobay Renal Centre is a not-for-profit organisation, the doctor emphasised that the organisation would in no way be affiliated with persons who would want to sell their kidneys for money. While pointing out that organ sale is not a major concern of the organisation as plans for transplants are only in their gestational phase, he said it was an area that would be scrutinised for loopholes and measures put in place so that there aren't any such occurrences.
 Diabetes
Meanwhile, Ingram pointed out the nexus between diabetes and renal failure. The former, he noted, has very high recordings in Guyana.
Over the years, other specialist doctors have noted the high number of cases of cardiovascular disease and diabetes in Guyana. Many have attributed the high numbers to unhealthy eating and sedentary living and have stressed that simple changes, such as maintaining a healthy weight and making calculated food choices, would be beneficial.
"Many of our dialysis patients have diabetes, and diabetes affects the arteries and the heart as well," Ingram explained.
However with the advent of dialysis, although costly to many, routine treatment can give a new lease on life to patients and some can now live up to 30 extra years with treatment.
Doobay announced that for longstanding patients of the facility the cost per session for dialysis has been reduced to $6,000. He noted that he would one day like to announce that dialysis treatment would be given free but until then the centre was doing the best it could with donations given to reduce costs.
Currently, the centre has 40 dialysis patients and while there is a charge for dialysis persons who cannot afford the treatment are never turned away. The centre is credited with reducing the cost of dialysis for patients here since prior to its opening patients paid as much as $30,000 per session. The current cost at the Doobay Centre is $9,000.
Doobay said that while the support from the Diaspora has been overwhelming, he had to highlight that locals were also giving wholeheartedly.
 $1M donation
At the announcement of the reduction of the cost of dialysis for longtime patients, Pandit Rajin Balgobin, from a Berbice Mandir, donated $1 million to the facility. He explained that money came from many persons who did not want to be named but he made reference to "an old lady" who "just walked up opened her head tie and took out $20,000 to give."
Berbicians requiring dialysis, he said, would travel from their homes to the centre, which is located at Annandale, to receive treatment. Against this background, Balgobin made a plea to Doobay to open a centre in Berbice.
Meanwhile, Doobay also announced that the construction of a cardiovascular centre, which will be at the same location, is scheduled to commence early next year. A donor, who will contribute significantly to its construction, has been identified but Doobay declined give the name.
In addition, a volunteer medical eye team from Canada will be in Guyana in the new year to offer free eye testing and if needed, eye surgeries.
The establishment has also teamed up with the University of Guyana to offer its assistance in whatever way it can to help the nation's medical personnel in training.
Around the Web