A mother of five was beaten to death by her partner in a lonely spot called the Salin at Ankerville Port Mourant.
Jasmattie Dowlatram, called 'Mamo,' 26, of 423, Train Line dam, Ankerville, Port Mourant Corentyne succumbed to her injuries moments after she was rushed to the Port Mourant Public Hospital for medical attention.
The partner from Rose Hall Town is currently in police custody assisting investigators. He was arrested at the hospital shortly after he took Dowlatram there.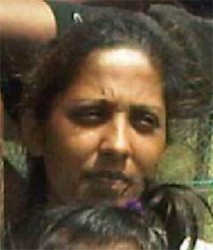 According to reports the partner saw Dowlatram speaking to a man following which he took her to the Salin, where during a confrontation he picked up a piece of wood and started to  beat her.
After Dowlatram fell to the ground unconscious, the partner picked her up and transported her on a bicycle to the hospital. She was being treated when she succumbed.
A sister of the deceased, Nairvani Dowlatram told reporters that she learnt of the tragedy around 4 am yesterday morning. She went to Ramoo's Funeral Parlour where she viewed the body, and noticed there were several wounds on her sister's head while one of her hands appeared to be broken.
Nairvani also said that the accused took the police to the scene of the incident and the piece of wood was recovered.
Stabroek News was told by another relative that the man would normally beat Dowlatram, and other family members said they had advised her to leave him. This newspaper was told that the couple had shared a relationship for the past six years, but after Dowlatram's husband died earlier this year, the two became closer.
Dowlatram lost her husband Naim Chand Ram, 42, and her father Hemchand Dowlatram, 52, after treacherous spring tides capsized their fishing vessels on January 15 this year.
Dowlatram leaves to mourn her five children Chandrawattie 12, Adesh 8, Dinesh 7, Chandra 5, and Rani 3, her siblings and other family members.
Around the Web