Samantha Schwartz, who was allegedly burnt by her brother on November 21 following a dispute over a pair of shoes, died on Saturday at the Georgetown Public Hospital (GPH).
Her sister, Sonia Schwartz told this newspaper yesterday that a post-mortem examination is expected to be conducted today.
Sonia said that while at the hospital doctors had told her that her sister's bronchial tubes were blocked. She added that Samantha, 35, of Lot 72 'D' Field, Sophia, used a respirator to aid her breathing. She had also gotten heavily dehydrated.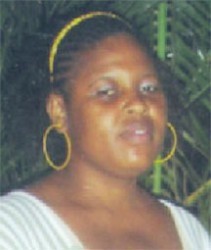 Sonia said that she was surprised at her sister's death since Samantha was doing well when she was visited at the GPH.
On Saturday morning, "I didn't get to visit her but a friend de visit her and the friend said that she was talking like normal and did not want her to leave the hospital." Samantha died at 12:30pm on Saturday.
Sonia explained that Samantha's condition at the hospital fluctuated. She could also only consume liquids while hospitalized at the GPH Burn Care Unit since solid foods caused her to regurgitate, according to Sonia.
She suffered first, second and third degree burns to her face, back, arms and chest.
Her brother Brian Haywood appeared at the Sparendaam Magis-trate's Court on November 25 charged with attempted murder. He was remanded to prison by Magistrate Alex Moore and the matter will return to court on January 20, 2014.
Around the Web