HAVANA (Reuters) – Hundreds of thousands of Cubans filed through Havana's Revolution Square yesterday in a May Day parade that paid tribute to Hugo Chavez, the Venezuelan leader who was the Caribbean island's top ally and benefactor before his death from cancer in March.
A sea of workers, many wearing red shirts like those favoured by Chavez and carrying signs with his image, paraded past a giant statue of 19th century Cuban independence hero Jose Marti in the vast square where Cuba holds its biggest political rallies.
They waved pictures of former Cuban leader Fidel Castro, his younger brother President Raul Castro, Ernesto "Che" Guevara, the Argentine who fought alongside them in Cuba's 1959 revolution, and of Chavez, with the words "Our Best Friend" beneath his smiling face.
A large version of the Chavez picture hung from a nearby building, with the same caption, which came from a newspaper column written by Fidel Castro after Chavez' death in which he said the Venezuelan socialist had been Cuba's best friend ever.
Chavez, 58, died on March 5 after a long battle with cancer, much of it fought in Cuba under the care of Cuban doctors.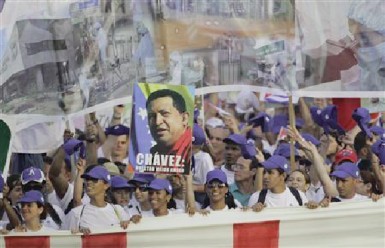 He had a close friendship with Fidel Castro and poured oil and money into Cuba to rescue it from the financial ruin that followed the 1991 collapse of the Soviet Union, the island's previous top ally. The aid helped keep Cuba's struggling economy afloat.
"We pay special homage to the unforgettable commander Hugo Chavez Frias and express our deepest affection and admiration for that giant," said Vice President Salvador Valdes Mesa in the speech kicking off the parade, which is a big event each year in one of world's last communist countries.
Cubans have worried that Chavez' aid might disappear with his death, but his successor, newly elected President Nicolas Maduro, visited Havana this past weekend and pledged to maintain the close alliance of the two countries.
The heart of the alliance is a daily shipment of 110,000 barrels of Venezuelan oil to Cuba in exchange for cash and the services of 44,000 Cuban workers, most of them medical personnel.
Cuba depends on Venezuela for about two-thirds of its daily oil consumption.
A poster carried by some parade participants showed the mustachioed Maduro, wearing an oil worker's safety helmet, with the words: "Chavez, I swear to you oil will continue being of the people." The two countries also have a number of joint ventures and say they are working toward integration of their economies.
Fidel Castro, who ruled the island for 49 years before stepping down in 2008, did not attend the parade for the seventh consecutive year. Castro, 86 and frail, has said he cannot endure long periods in the sun.
The other theme for the heavily orchestrated event was "United for a prosperous and sustainable socialism," which is the goal of a wide-ranging modernisation of the Soviet-style economy undertaken by President Castro.
He has launched reforms to increase private enterprise while reducing the role of the state, which employs most of the Cuban workforce and provides various social benefits but pays salaries that average the equivalent of just $19 a month.
The 81-year-old Raul Castro, wearing the traditional white guayabera shirt of Cuba, waved at the passing crowd from his seat beneath the Marti statue, but did not speak, leaving that to Valdes.
Valdes said Cubans all over the country were parading "to express the unity of the people and their indisputable support for the revolution, socialism, Fidel and Raul."
Around the Web