(Trinidad Express) Missing Princes Town mother of three Bissoondaye Geeta Seenath turned up yesterday shortly before around 3 p.m. at the home of a resident near the Rio Seco Waterfall in Toco near where she vanished a week ago.
Seenath, 46, of Chappel Street, told her family she had lost her way while walking along a trail from the waterfall.
She was heading back to a beach in Salybia to rejoin others she had come with.
A search party of police, soldiers, sniffer dogs, villagers, friends and the family of Seenath, together with aerial support of helicopters, combed through miles of forested terrain from the time Seenath went missing shortly after 4.30 p.m. last Saturday, but found no trace of her.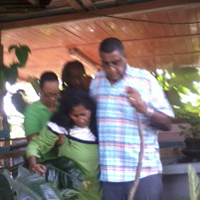 Councillor for Toco/Fishing Pond Terry Rondon said he was contacted around 3 p.m. and was told the missing woman was found about five miles along the Matura/Salybia Road.
"The villager said 'she is here, Geeta is here'. I went there and met Geeta. She was very dehydrated. She had a dislocated shoulder and was very sick. She said she saw the helicopters but no signs of people. I called the Matura police. It was a sign of relief for everyone," said Rondon.
"She looked very frail. We gave her blankets, water and a Lucozade (energy drink). She was very hungry," the councillor added.
Police said they were contacted and went to the home of the villager where they found Seenath still in the same clothing she was wearing when she disappeared.
Her daughter, Roshnie Seenath, 19, reunited with her mother at the Sangre Grande District Hospital yesterday.
She told the Sunday Express: "She said she decided to walk up a hill and from there she fell down. She said she fell down more than once. She hurt her knees and both shoulders."
Roshni Seenath said she was still to find out how her mother had survived in the forest for the last seven days.
"That was the only information I got from her. I didn't get a chance to speak to ask her what she was eating and stuff. She was crying a lot," said her daughter. "She is really a survivor."
Seenath's friend, Crystal Thompson-Mohan, said Seenath was the first out of the waterfall and was the first to walk back on the trail to head back to the bus they had come on.
Thompson-Mohan, who had lagged behind on the trail to assist a teenage boy who had an asthma attack, said she lost track of her.
Seenath's sister, Champa Singh, said she was the first to speak to her sister on the phone after she received a call from a man who told her that Seenath was alive.
Singh told the Sunday Express: "A man called my phone and said 'look your sister here'. I said 'put her on the phone I want to speak to her. She came on the phone and she was breathing hard, like she was in a lot of pain. The man said he lived near the waterfall."
Singh said on Friday she "prayed all night" for her sister's return.
"We remained positive about the situation all the time," said Singh.
Roshnie Seenath said she was relieved and thankful to God to see her mother, after praying every morning and evening for her safe return.
On Friday she said she never gave up hope that her mother would be found alive.
"It is a little overwhelming. She is okay. When I saw her she started to cry and her voice was faint. She said her neck was in pain. She was asking for her friends who were on the hike. I told them everyone was here. I asked if anyone had harmed her and she said 'no'," the daughter said.
Seenath was expected to remain at hospital last night.
Sgt Fuentes of the Matura Police Station is continuing investigations.
Around the Web