(Trinidad Express) Joint-venture projects between Trinidad and Tobago and Guyana could be the foundation upon which a unified Caribbean is built, businessman Donald Baldeosingh said on Wednesday.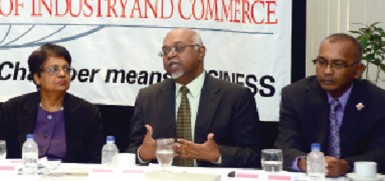 Baldeosingh was one of the presenters at a forum hosted by the Trinidad and Tobago Chamber of Commerce in Westmoorings on Wednesday on investment opportunities between the two Caricom countries.
"It is the start of regional integration. When you think of the European Union, it started on the basic building block of Franco-German relations. If you want Caribbean integration, we have to start somewhere. You have two friendly countries with good synergy; it will start the regional intergration from here and expand it," he said.
Baldeosingh, president of ENMAN Group, pitched his company's plan for a 500-kilometre-long undersea electrical power cable that would connect Trinidad and Guyana.
Other pitches included a port and industrial park; an aluminium smelter and a hydroelectric plant, all in Guyana. (The latter would be used to bring power into Trinidad).
The aim, Baldeosingh said, was to introduce to a wider group of potential investors to the opportunities in Guyana, and would involve Caribbean integration; creation of new industries; and opportunities for manufacturers and "utilising resources today to create opportunities for tomorrow linking the economies of Trinidad and Guyana".
Over 40 industrialists, bankers, economists and entrepreneurs were invited to the chamber's Westmoorings headquarters to attend. While the initial investment thrust will be between Trinidad and Guyana, it is hoped to extend through to the wider Caribbean.
"We are two resource-rich countries but Trinidad has had a head start in terms of oil and gas; Guyana needs something to help them move forward and that something is energy and money; so we have (that) something here so why don't we use it to help Guyana develop their natural resources and make them useful for the entire region," Baldeosingh said.
He said government involvement is something being considered, but at the moment, the presenters were looking to challenge the traditional top-down model, where government leads and the private sector follows.
"Politicians themselves want to encourage private sector, export-led regional growth; the government has created this umbrella – T&T and Guyana have an energy cooperation agreement—so under that, the private sector can get involved," he said.
The project is now at the stage where investors are being invited to join projects, but the planning stages probably began about a decade ago, Baldeosingh surmised, adding that it probably had another six to eight years to go (before tangible results) can be seen. He noted that the entire joint venture project would total about US$4 billion, one of the biggest single undertakings the Caribbean had ever seen.
Permanent Secretary in the Ministry of Trade, Sandra Indar delivered the feature address. She noted the bilateral economic relationship between Trinidad and Tobago and Guyana.
For the period 2007-2010, Trinidad and Tobago exported an average of TT$1.1 billion worth of products each year to Guyana.