BOGOTA, (Reuters) – Colombia's FARC rebel leaders negotiating peace with the government must return to the jungle and end their days on the battlefield or in prison if talks under way in Cuba collapse, President Juan Manuel Santos said yesterday.
Santos, who bet his political legacy on bringing peace to the Andean nation, said the FARC, or Revolutionary Armed Forces of Colombia, has little choice but to turn in their weapons and end a conflict that has killed more than 200,000 people since it began five decades ago.
"They would have to return to Colombia and face the destiny of all other FARC leaders who ended up in the grave or in prison," Santos told Reuters in an interview at the presidential palace, when asked what would happen if the talks failed.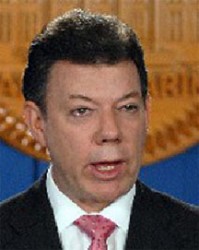 More than three dozen FARC commanders are in Havana working through a five-point agenda that would let the two sides declare peace. Santos said FARC leaders who remain on the battlefield such as Rodrigo Londono, known by his war alias Timochenko, would be tracked down and captured or killed.
In his final year of a four-year term, the center-right Santos said he is not concerned the Marxist rebels' inclusion in the political system would shift the tone in Colombia toward the extreme left, calling their Communist rhetoric out of touch with a modern society. On the contrary, he said, their involvement would strengthen the country's democracy.
"The FARC, with its antiquated Communist discourse from the 1960s, will not go anywhere. It's a discourse that is totally obsolete," said the president, the scion of one of the nation's wealthiest and most powerful families.
"If it modernizes, if it realizes that the concept it has of how a state functions in today's world has no validity, that it has been a failure, if it changes the discourse, then it could have an option," said Santos about the FARC's political hopes.
El Salvador's Marxist rebels, the FMLN, or Farabundo Marti National Liberation Front, reached a peace deal in 1992 but took another 17 years to win the presidency.
"The FARC has a 95 percent level of rejection," he said. "How could it win more than 50 percent overnight?"
Santos has faced a barrage of criticism from his predecessor and former ally Alvaro Uribe over the talks and a perception that the rebels have taken the upper hand on the battlefield.
Uribe's barbs have intensified since he became the official opposition last year, hoping to put his own candidate in the presidential palace in 2014.
Santos won election in 2010 by a landslide, pledging to cut unemployment, continue Uribe's hardline security policies, while fostering economic growth and reducing poverty.
The 61-year old Santos – who will not say until November if he will run again – has seen his approval ratings slide below 50 percent, from highs above 74 percent when he took office.
Many Colombians are worried that he has offered too much to the rebels and that FARC commanders responsible for atrocities could benefit from soft prison sentences or walk away scot-free.
While Santos argues that it is unrealistic to attempt to investigate and punish all violations and war crimes during the conflict, he remains adamant there would be no impunity.
"They will go to jail or be punished. They will be tried. There will be no reprieve, there will be no amnesty," he said.
Around the Web