(Trinidad Express) Attorney General Anand Ramlogan has threatened to take the Express newspaper to court to prevent publication of a story and to sue for defamation should the paper publish "falsities".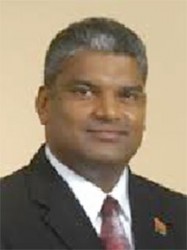 The AG's attorney, Pamela Elder SC, in a letter to Express editor-in-chief Omatie Lyder dated September 5, 2013, stated she has advised her client that he is "entitled to bring a claim for inter alia defamation and there is a realistic prospect of success of such action before Anand Ramloganthe courts".
The Express, in keeping with sound journalistic principles, had embarked on an investigation following certain reports.
Investigative reporter Anika Gumbs therefore journeyed to the AG's Palmiste home last Tuesday to interview his wife Nalini and also went to his in-laws' Barrackpore home last Wednesday where certain questions were asked.
In the interest of balanced and fair journalism given a statement made by the AG's mother-in-law Shantee Nanan, Gumbs telephoned Ramlogan for a comment on Wednesday evening. Ramlogan said he was in an important meeting and would call back. He took Gumbs' number but did not return the call.
That same evening, Ramlogan telephoned Lyder claiming that Gumbs had pretended to be looking for a place to rent when she approached his in-laws.
Gumbs has denied this.
Later on Wednesday night, a list of questions was e-mailed to Ramlogan by Gumbs.
Questions related to the investigative story were also sent to Prime Minister Kamla Persad-Bissessar.
The AG acknowledged receipt of the e-mail but did not answer the questions.
Gumbs followed up by attempting to meet face to face with the AG following the weekly Cabinet meeting on Thursday.
Ramlogan was not present at Cabinet.
Around the Web