(Trinidad Express) A police manhunt was on last night for the man suspected in the beating death of two-year-old Kimora Roopnarine on Monday.
Police said the 24-year-old man ran away after doctors at the Chaguanas District Health Facility pronounced the child dead on Monday afternoon.
Little Kimora, of Phyllis Lane, Enterprise, suffered two broken ribs and died of blunt force trauma consistent with a beating, an autopsy concluded.
She was taken to the health facility by the male relative around 4.05 p.m. He told medical personnel she was gasping for breath.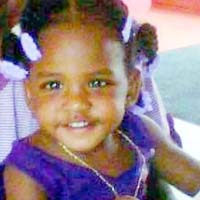 The little girl was taken to the examination room where she was pronounced dead.
The child's 23-year-old mother was also interviewed by investigators yesterday.
Police said Kimora was dropped off at a day care centre, near her family's home, around 10 a.m. on Monday. She was picked up by the male relative that afternoon.
Investigators have also interviewed employees at the centre.
The day care centre's employees and the child's relatives declined to speak with the Express yesterday.
"This is a police investigation. We can­not get involved. You will need to speak with the investigators," the Express was told.
Senior Superintendent Johnny Abra­ham said investigators were working tirelessly to find the alleged killer. He said the matter was being thoroughly investigated.
Around the Web