(Reuters) – Honduras' electoral authority said yesterday it would review polling booth tallies from last month's presidential election after the second-place leftist candidate called the result fraudulent.
The authority said it would go over the vote tallies of more than 16,000 polling booths, but it stopped short of announcing a full vote recount that runner-up Xiomara Castro, the wife of ousted former leader Manuel Zelaya, had called for.
The ruling National Party's Juan Hernandez, who is head of Congress, won last week's election with 36.8 per cent of the votes, according to the country's election tribunal. He has vowed to curb the drug violence that has given Honduras the world's highest murder rate.
Castro ran as the candidate of the Liberty and Refoundation Party (LIBRE) – a coalition of leftist politicians, unions and indigenous groups founded by her husband. She came second with 28.79 per cent of the vote.
Castro and Zelaya have refused to recognise the vote, which has been given the all clear by delegations from the European Union and the Organisation of American States, calling it fraudulent and demanding a recount.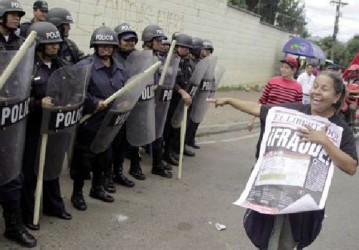 Yesterday, the election tribunal, which LIBRE has accused of pro-Hernandez bias, said it would publicly recount the 16,135 vote tallies from more than 5,000 voting stations nationwide following a petition from the leftist party.
"We're going to fulfil LIBRE's petition. We're going to go through each tally, as they've asked. We're going to do it publicly, we're just ironing out the details of how it's going to be done," said election tribunal president David Matamoros.
He gave no timetable for the inspection.
Matamoros asked Castro and Zelaya to support the tribunal's findings if they were still to show a Hernandez victory.
"If Xiomara wins, let the tribunal then show that and grant her her victory," Zelaya said in response.
Thousands of LIBRE supporters peacefully took to the streets of Honduras' capital Tegucigalpa on Sunday to protest the election result. Analysts said the fact the march was peaceful boded well for Honduras' short-term political stability.
LIBRE, which won 39 seats in Honduras' 128-seat Congress, has said it will keep protesting, without giving details of new marches, and Zelaya has said he is willing to go the country's top court to get the vote annulled.
Speaking after the tribunal announced the vote tally review, Castro sounded a note of caution.
"Let's hope, for the peace and tranquility of our country, this (recount) happens and there is a possibility of gaining the confidence we need in the election results," she said.
Around the Web