What has become of Babita Sarjou?'
Family wants answers
What has become of Babita Sarjou? That is the question that still lingers in the minds of her relatives two years and eight months after she went missing. To date there are no clues to indicate whether she is even still alive but her mother is trying to remain positive.
This situation has probably hit Champa Seenarine the hardest of all the family members. For her it is hard to let go and what is making things more painful is that she is unable to see her grandson. Babita's husband had been keeping the child away from her relatives.
According to the reports the then 28-year-old Sarjou left her Timehri home on the eve of Diwali on November 4, 2010 informing her family that after work she was going to view the motorcade with her estranged husband and four-year-old son. She promised that she would have been back home at around 9 that night. They never saw or heard from her again.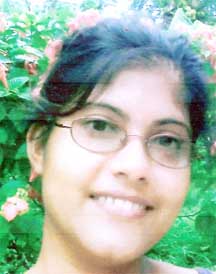 A still emotional Seenarine told Stabroek News recently that there is no word on her daughter's whereabouts. "I think she is still alive," she said, before expressing the view that her daughter is in hiding. She said though that "I don't think that she would hide alone."
The woman again told Stabroek News that her daughter was in a troubled marriage in which she was being abused both physically and emotionally. She said that her daughter often told her that her husband would do many bad things to her but she could not say anything. She said that she is at a loss as to why he hated her so much.
The husband against whom Sarjou had filed a harassment complaint was arrested and held for 72 hours after she disappeared. He was later released. At the time of the woman's disappearance the harassment matter was before the court. Asked what would make her conclude that she is alive, Seenarine said that this is based on what the man and his relatives have said. The husband in particular said things in a text message on Diwali Day of that year indicating that he knows something. She insisted there are signs that he is guilty of something.
She said that telephone records revealed that many calls were made between the man and her daughter around the time she disappeared. A source told this newspaper that phone records show some suspicious activity between a city resident and a man closely acquainted with Sarjou. The records also show that the man lied about the communication between himself and the city resident on the night Sarjou disappeared. Two days after the disappearance a call was made from Sarjou's cell phone to the number of the city resident. The city resident has told investigators that he doesn't know Sarjou and never spoke to her.  He claimed that he met the man in a Sheriff Street bar six months prior to the woman's disappearance.
"I haven't checked in with police 'cause it makes no sense," Seenarine said, commenting that the police seemingly have no interest in the case because of their connections to the man. She recalled that she had gone to the East La Penitence Police Station on an unrelated matter when she saw a rank from the Brickdam Police Station who was the lead investigator in the case.
She went on to say that when the rank saw her he immediately left. "He ran away. They have things on their mind," she said, adding that she knows that there are individuals out there who know what happened to her daughter.
"Babita wouldn't just disappear like this ‒ why. Why did Babita leave her son, why did Babita leave me?" she sobbed, saying that the woman had no reason to leave.
"I will not give up and I know that he is the key person to everything regardless…" she said, mentioning that she and her family have been threatened that if anything else appears in the press on the issue they would be harmed.
"I don't want to use the words that she is dead. I still have the hope that she is alive… I just wish if everything could come to light. Is two-and-a-half years she gone missing and it is not easy," said Seenarine, who needs some closure.
She said that she often dreams that her daughter is coming back but that she (Sarjou) is scared to do so because she can't reveal what happened to her.
Seenarine called on the relevant authorities including the government to put measures in place so she can visit her grandson in a secure environment. She said that she saw the child on television recently in a news report on his school. "It is hurtful to know I can see him on television and can't touch him," she said.
What adds even more suspicion to this case is that when Seenarine went and reported her daughter's disappearance to the Kitty Police Station, she was told by two female officers that the man had gone to the station the night before and made a report. He had told officers that the woman had not turned up to view the motorcade with him. This information had shocked the woman's relatives.
Strokes of bad luck
Sarjou's family over the years has been hit by bad luck. Prior to her disappearance her father was badly injured in a hit and run accident in 2002 and her brother was killed in 2003. They are still awaiting justice in both cases.
Seenarine explained to Stabroek News during the recent interview that her husband Doodnaught Sarjou succumbed on Christmas Day last year from his injuries. She explained that ten years earlier he was hit by a drunk driver on the Soesdyke Public Road.
"He punished through that time. I use to have to bathe him, dress him and hold his hand [to walk]. He suffered tremendous pain," she said, but she did not give up on him. She said that she got no help from the police in relation to the matter.
She explained that as a result of the injuries he was unable to walk and he could not speak well.
She said that her husband was denied justice as police had made an arrest after the accident. She had been told to go to the police station two days later only to discover that the driver had appeared in court the previous day and had been fined after pleading guilty to the charge.
"I was just frustrated and fed up," she said, adding that her husband had been hospitalized seven times between May to December of last year.
About a year after her husband's accident tragedy struck the family again.  The couple's son Kumar Sarjou was hit with a bat during a cricket match on June 26, 2003. He died the following day.
Seenarine explained that Kumar was the umpire at a cricket game at Timehri red ground when he called a no ball. As a result of this she said there was an argument during which her son was hit on the head by a batsman.  She said he lived for 18 hours and then died.
"Last year was ten years and I am still waiting on justice," she said, while explaining that a man was charged but there were many setbacks during the case resulting in it being sent to the High Court twice.
She said that the suspect was arrested and later charged with manslaughter for which he was granted $175, 000 bail at the Providence Magistrate's Court by then Magistrate Adrian Thompson.
After a while, the woman said, the man stopped attending court and several arrest warrants were issued. She later learnt that nine warrants had been issued for him and she took it upon herself to persuade the police to go to his house in search of him. She said that the ranks found him in his home and he was again placed before the court. This time he was placed on $250,000 bail by now Acting Chief Magistrate Priya Sewnarine Beharry. The matter was heard and sent to the High Court.
About two years back, Seenarine added, she heard that the case was being called in court. She said that when she inquired from the prosecutor what was happening, he told her that the case had to be tried again because the caution statement had gone missing. She said that she attended the hearing twice and on the third occasion the court was told that the caution statement had been found and it was handed over to the court. The defendant was then sent to the High Court for trial.
"Since then I still waiting. Keep looking at the paper when sessions come up but nothing. I would never see the accused name call up. I would be glad to have the Chief Justice look into this case and bring it up quickly so that I can get justice," she said, going on to say that she is finding it difficult these days to sleep because she and her family have gone through so much.
Asked about all the tragedies that have befallen her, she said "I would count myself unlucky but I ask God to give me faith. I will never give up. One day things will come to light."