BUENOS AIRES,  (Reuters) – Argentine President Cristina Fernandez may be a lame duck after her coalition was thumped in a mid-term primary election, but with two years left in power she can still impose more of the capital and currency controls that have cut confidence in Latin America's No. 3 economy.
Fernandez's candidates won just 26 percent of the nationwide vote in Sunday's primary, much less than expected, and her hand-picked congressional candidate lost in the must-win province of Buenos Aires, home to 40 percent of the country's electorate.
The results put Fernandez's coalition in a much weaker position ahead of legislative elections in October and all but killed chances that her supporters might be able to change the constitution to allow her to run for a third term in 2015.
With no competition among candidates on the lists offered by most parties in the primary, and with voters allowed to split the ticket among their choices for the Chamber of Deputies and Senate, the vote served as a referendum on Fernandez's rule.
Opposition to her interventionist policies is now likely to increase and presidential hopefuls will start to position themselves, but the leftist president is likely to rise to the challenge.
"We are going to deepen the transformation (of the country)," Fernandez, 60, said on Sunday night as results showed her coalition doing poorly. "The unleashing of these other movements is cause for us to redouble our efforts."
Since winning re-election in 2011, Fernandez has nationalized Argentina's main energy company YPF, erected import barriers and imposed heavy-handed controls meant to stop capital flight and support the anemic peso currency.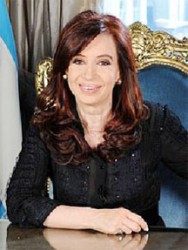 Chief among the political forces rising against Fernandez is Sergio Massa, the 41-year-old market friendly mayor of Tigre, Buenos Aires province, who beat the president's candidate in that district's primary congressional contest.
Posters appeared yesterday morning promoting Massa for president in 2015.
But before that, Argentina will watch closely to see how Fernandez handles the transition that lies ahead.
"She will probably reinforce her trademark policies," said Karen Hooper, an analyst with U.S. consultancy Stratfor.
"That said, there are hard choices that need to be made, and she has shown a willingness in past post-election periods to tackle controversial issues like subsidy reduction, albeit with little success," Hooper added.
Over her six years in power Fernandez has won support from the poor with generous welfare spending and has also overseen steady economic growth, although it has come at a cost. Inflation is estimated by private economists at more than 20 percent per year, one of the highest rates in the world.
Fernandez might come under pressure to reduce inflation by cutting subsidies and other government spending, but that would fly directly in the face of her discourse of the last six years and might spark street protests.
Whatever course she chooses, Fernandez will probably stay in charge of the policy agenda until the end of her term in December 2015, said Daniel Kerner of the Eurasia Group, a political risk consulting firm.
"It seems likely that the government will double down on its heterodox policies and will likely try to regain the initiative with some bold policy move," Kerner added. "The difference now is that she will likely encounter increasing resistance, from politicians, the media and the judiciary."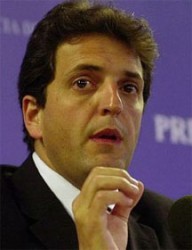 While Fernandez keeps control over financial assistance to cash-strapped provincial governments, a key political power lever in Argentina, the primary showed her coalition is fraying.
Argentine bond prices rose on Monday and country risk spreads tightened as investors factored in the increasing possibility that a new and more business-friendly president will take over in late 2015.
"People are willing to take another look at Argentina because its bonds pay very high yields even though its economy is growing faster than Brazil's," said Gary Kleiman of Washington-based emerging markets consultants Kleiman International.
"From a short-term tactical allocation perspective, Argentina could be an opportunity to get some bargains."
Around the Web