OSLO,  (Reuters) – Norway's centre-right opposition pulled further ahead of the Labour-led government with just weeks to go before elections on Sept. 9, a poll showed yesterday, putting the Conservatives and their allies on course for a landslide victory.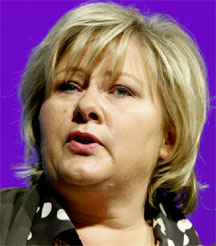 Support for Erna Solberg's Conservative Party rose to 31.1 percent from 29.7 percent two weeks ago, while combined support for the four opposition parties reached 59 percent, state broadcaster NRK said.
The centre-right intends to reshape Norway's $760 billion oil fund, the world's biggest sovereign wealth fund, and may set new rules for a huge energy sector that supplies much of Europe's oil and gas.
Around the Web