SAO PAULO,  (Reuters) – Furious about a report that the U.S. government spied on her private communications, Brazilian President Dilma Rousseff may cancel a planned White House visit and downgrade commercial ties unless she receives a public apology, a senior Brazilian official told Reuters yesterday.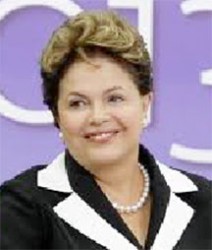 A Brazilian news program reported on Sunday that the U.S. National Security Agency spied on emails, phone calls and text messages of Rousseff and Mexican President Enrique Pena Nieto. The report by Globo TV was based on documents leaked by fugitive former NSA contractor Edward Snowden.
Rousseff is due to make a formal state visit to Washington next month to meet U.S. President Barack Obama and discuss a possible $4 billion jet-fighter deal, cooperation on oil and biofuels technology, as well as other commercial agreements.
The visit, which is the only such invitation extended by Obama this year, was meant to highlight a recent improvement in relations between the two biggest economies in the Americas, as well as Brazil's emergence over the past decade as a vibrant economy and regional power.
But the official, who declined to be identified due to the sensitivity of the episode, said Rousseff feels "patronized" by the U.S. response so far to the Globo report. She is prepared to cancel the visit as well as take punitive action, including ruling out the purchase of F-18 Super Hornet fighters from Chicago-based Boeing Co, the official said.
"She is completely furious," the official said.
"This is a major, major crisis …. There needs to be an apology. It needs to be public. Without that, it's basically impossible for her to go to Washington in October," the official said.
Obama and Rousseff are scheduled to attend a Group of 20 meeting in St. Petersburg, Russia this week. However, as of Wednesday afternoon, the two leaders had no bilateral meeting scheduled, the official said.
Around the Web