WASHINGTON, (Reuters) – The White House rejected a Republican plan to reopen portions of the U.S. government yesterday as the first shutdown in 17 years closed landmarks like the Statue of Liberty and threw hundreds of thousands of federal employees out of work.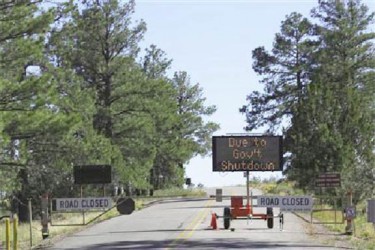 The back and forth offered no sign that President Barack Obama and Republicans can soon end a standoff over health care that has sidelined everything from trade negotiations to medical research and raised new concerns about Congress's ability to perform its most basic duties.
The Republican plan would restore funding for national parks, veterans services, and the District of Columbia. Other government services would remain unfunded.
While the selective funding approach appeared to unite conservative and moderate Republicans for now, the White House said Obama would veto it. Democrats who control the Senate said they would reject it before it reached Obama's desk.
Republicans who control the House of Representatives said Obama could not complain about the impact of the shutdown while refusing to negotiate. "The White House position is unsustainably hypocritical," said Michael Steel, a spokesman for House Speaker John Boehner.
An even bigger battle looms in coming weeks, when Congress must raise the debt limit or risk a U.S. default that could roil global markets.
"This is a mess. A royal screwup," said Democratic Representative Louise Slaughter of New York.
Obama accused Republi-cans of taking the government hostage in order to sabotage his signature health care law, the most ambitious U.S. social program in five decades.
"They've shut down the government over an ideological crusade to deny affordable health insurance to millions of Americans," Obama said in the White House Rose Garden.
Republicans in the House view the Affordable Care Act as a dangerous extension of government power and have coupled their efforts to undermine it with continued government funding. The Democratic-controlled Senate has repeatedly rejected those efforts.
Spending authority for much of the government expired at midnight on Monday (0400 GMT), but that did not prevent the Obama administration from opening yesterday the health-insurance exchanges that form the centerpiece of the law.
VETERANS PASS  BARRICADES
Republicans said their latest proposal would help elderly veterans who earlier in the day pushed past barricades at the National World War II Memorial to get into the shuttered site.
"They're coming here because they want to visit their memorial, the World War II memorial. But no, the Obama administration has put barricades around it," said Republican Representative Mike Simpson of Idaho.
Democrats said Republicans were resorting to gimmicks to avoid a vote that would restore funding to the entire government because they were afraid it would pass.
"That's important – a park? How about the kids who need daycare?" said Democratic Representative Sander Levin of Michigan. "You have to let all the hostages go. Every single one of them."
The veterans in question had gotten in to the memorial with help from several Republican lawmakers. But they didn't seem particularly interested in taking sides.
"It's just like a bunch of little kids fighting over candy," said George, Atkinson, an 82-year-old Coast Guard veteran of the Korean War. "The whole group ought to be replaced, top man down."
The plan appeared to temporarily unite Republicans, heading off a split between Tea Party conservatives who pushed for the government funding confrontation and moderates who appear to be losing stomach for the fight.
Before a meeting of House Republicans, Representative Peter King, a New York moderate, estimated that more than 100 of the chamber's 232 Republicans would back Obama's demand to restore all government funding without conditions. That would be enough to easily pass the House with the support of the chamber's 200 Democrats.
The shutdown closed landmarks like the Grand Canyon and pared the government's spy agencies by 70 percent. In Washington, the National Zoo shut off a popular "panda cam" that allowed visitors to view its newborn panda cub online. In Pennsylvania, white supremacists had to cancel a planned rally at Gettysburg National Military Park.
MARKET REACTION
Whether the shutdown represents another bump in the road for a Congress increasingly plagued by dysfunction or is a sign of a more alarming breakdown in the political process could be determined by the reaction among voters and on Wall Street.
Around the Web