OTTAWA (Reuters) – A Canadian legislator at the heart of a spending scandal yesterday accused Prime Minister Stephen Harper of being involved in a cover-up deal, deepening a crisis that has engulfed the Conservative government.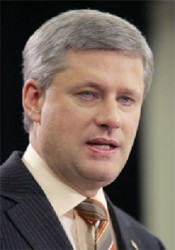 Senator Mike Duffy made his allegations just days before a Calgary convention of the ruling Conservatives, who have lost support in the polls since the scandal broke in May and are now trailing the opposition Liberals.
The crisis is the worst to hit the right-leaning government since Harper came to power in early 2006 on a promise to boost accountability. Harper exercises strict control over the Conservatives – also known as the Tories – and such broad signs of division and dissent inside the party are unprecedented.
Duffy made his allegations in the Senate chamber, where comments are subject to Parliamentary privilege and make him immune from prosecution.
Duffy and two other senators – all appointed by Harper – face suspension without pay for allegedly charging too much in expenses. Duffy denies he did anything wrong but he said agreed in February to repay C$90,000 ($86,000) in expenses after Harper told him to do so on the grounds the affair was becoming a political embarrassment to the party's core supporters.
Around the Web