Confidence was as visibly exuberant as the new colourful kit when the national squad for the Caribbean T20 was formally outfitted with warm up and match gear after completing effectively their final training session of the year before regrouping on January 2 2013.
The team departs these shores on January 4 for Port of Spain, Trinidad, where they first compete against the Combined Campuses and Colleges team on January 7 at 8pm.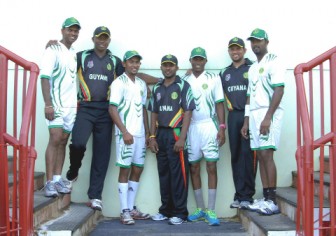 Guyana's next three assignments will be against Barbados, Trinidad and Tobago and Jamaica, and in the game's most rapid format, the team must remain at the peak of its powers throughout the tournament if they are to retrieve the title from current holders Trinidad and Tobago.
Guyana won the inaugural Stanford T20 tournament as well as the inaugural Caribbean T20 competition and has been the thorn in the side of Trinidad and Tobago as both times the upset the Red Force when they won.
The Caribbean T20 2013 is the final edition of the regional tournament as the WICB announced an agreement with Verus International, a Barbados-based merchant bank, to have a franchise-based T20 league.
Upon completion of their final training session yesterday the Guyana team appeared a confident bunch, with captain Veerasammy Permaul remarking that the squad was especially well-prepared for the tournament.
He said that "once we (Guyana) go out there and play to our full potential there's no stopping us from bringing back the trophy."
Vice-captain Christopher Barnwell added that the team was privileged to be able to use the stadium for preparation, a point echoed by coach Esaun Crandon and others as the team was able to train uninhibitedly despite the wet weather over the past three weeks.
Crandon said that he was grateful for the work of the support staff, especially coaches Orin Bailey and Garvin Nedd, who assisted the team as they worked on areas of fitness and tactical planning, as well as working with technical aspects of the game in net sessions.
Former national Under-19 player Alfred Mentore complimented the GCB for ensuring the team was well equipped, while also mentioning that this tournament will be the last of its kind before the franchise format is introduced in Caribbean T20 cricket. Although details of the structure of that tournament are not yet available, Mentore remarked that this tournament will be useful for the players to market themselves as teams are likely to bid for players to represent their franchise.
Secretary of the Guyana Cricket Board, Anand Sanasie, spoke of the  camaraderie needed throughout the tournament while encouraging players to have themselves counted among the runs and wickets as Guyana seek to bring home the trophy.
Manager Alvin Johnson said that he was confident in the squad selected for the tournament adding that he believes it has the potential to be successful.
Currently ranked number two in the Test rankings, veteran batsman Shivnarine Chanderpaul, easily the most experienced player in the side, was also confident in the team's potential and preparation, but cautioned the team that although the preparation was good, it is important to " get turned on when we get out there…and stick to the game plan…so that at the end of the tournament Guyana's flag will be flying high."
Around the Web