Yesterday's FIFA-mediated resolution to the long running dispute between the Guyana Football Federation (GFF) and the Georgetown Football Association (GFA) is being seen as a resounding victory for the GFA with the agreement largely echoing positions called for by it.
The resolutions include the complete restoration of all constitutional rights revoked from the GFA by the GFF as well as the establishment of an independent electoral committee to oversee GFF elections.  In an exclusive interview with Stabroek Sport following a media conference announcing the agreement, GFA president Vernon Burnett expressed joy that an amicable resolution has been found. "We don't want to see this as a victory for the GFA but a triumph for the entire football fraternity. I am happy about the outcome of the proceedings as we have always welcomed the impending intervention of FIFA and CONCACAF representatives. The entire football family has been affected by the current disposition and the beginning of the reconciliation process starts now," he said.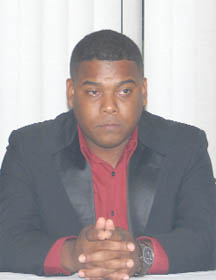 Pressed about the way forward for the GFA, a clearly exhausted Burnett stated that it is time for the GFA to properly execute its constitutional mandate while continuing to maintain transparency and objectivity.  "We have to continue to chart a course in the development of football in the Georgetown sector. Admin-istration soundness and clarity must continue as we strive for the consistent development of technical and tactical facets of the sport. What is needed is a collective effort from everyone inclusive of the GFA and the clubs in order to sustain this lucidity and growth," he asserted. Quizzed on the plans and intentions of the GFA to work with the GFF following the outcome of the matter, Burnett responded that the organizations plan to work in unison with the GFF for the development of football. "The only way forward is if both organizations work together with one primary mission and that's the development of the game. Clearly outlined in both organizations constitutions are the guidelines on how to work to together to foster progress and we intend to work towards that goal which is the progression of the beautiful game," he declared. The intervention by FIFA and CONCACAF has been met with open arms as the present state and development of football has left a lot to be desired.
Around the Web