The annual Banks Beer Cup knockout football competition will continue this year, president of the Georgetown Football Association (GFA) Vernon Burnett said yesterday at the presentation ceremony to reward winners of the second annual tournament which concluded on New Year's Day at the Georgetown Cricket Club (GCC) Bourda ground.
"The word on the street is whether the Banks Beer/GFA Knockout tournament will continue after this year," Burnett stated at the ceremony held at the Banks DIGH Sports Club last evening.
"Based on the turn of the tide and now that we are back together as one football family the Banks Beer Cup will continue," he assured.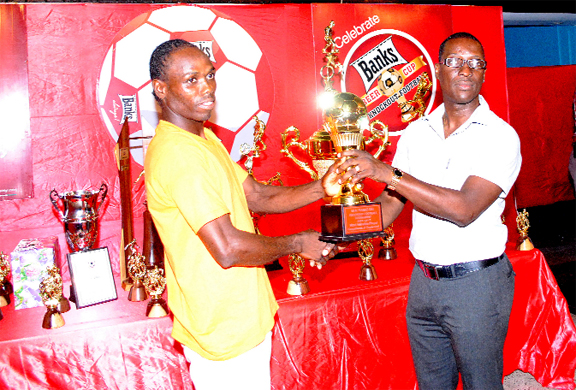 "This provides an opportunity for our Banks Beer Cup to be even bigger and better than come 2013," Burnett added.
The GFA, he said, was pleased to be associated with the Banks Beer Knockout Cup and more so pleased to be a partner with Banks DIH and all the other sponsors.
An excited Burnett said it was pleasure for him to be standing once again congratulating their partners for another successful tournament.
"Firstly to our partners the Banks Beer Brand and our clubs who continue to work hard and stick by the Georgetown Football Association even through the trying times. We thank the clubs from the mining town and the Kwakwani boys who all brought their very own brand and identity to the affair, for which we are eternally grateful."
The East Coast teams, he stated, did a wonderful job and the doors of the GFA will always be open to the Upper Demerara and the East Coast football Associations for participation in the Banks Beer Knockout tournament.
GFA vice president, Mark Phillips, who opened the ceremony, gave a summary of the tournament and thanked the sponsors, fans and players for the incredible success of the tournament.
"I must say that I was shocked to see the patronage that was afforded to us during the entire event. I grew up in Robb Street and saw every cricket match played at the Bourda Cricket Ground and I have never seen a throng of that magnitude that was present on finals night at the Bourda Cricket Ground," Phillips said.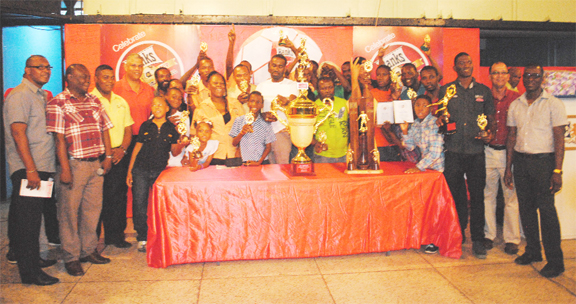 "I hope that Banks and the GFA in partnership will continue to move football forward in this nation," he opined.
Representatives of the 18 clubs that did not make the final four were the recipients of $125,000 each for their development.
That sum, approximately $2.5 million represents 30 per cent of the gate receipts of the tournament.
Individual awards given out during the conclusion of the festive affair included Best Goalkeeper- Oswald Cornette (Camptown), Goal Boot Winner-Devon Forde (Camptown) and Most Valuable Player- Devon Forde, rounding out a clean sweep of the individual awards for the boys from Campbellville.
Around the Web