Women's International Boxing Association (WIBA) bantamweight champion, Shondell 'Mystery Lady' Alfred, who found out that she was three weeks pregnant a day before her world title fight against Mexican Zulina Munoz last November said that even though her pregnancy resulted in an opportunity missed and a "slap in my face, she is still happy and excited to become the mother of her second child.
The 31-year-old Alfred stated that she has been making regular check ups with her doctor and both herself and fetus are doing well even though she was training brutally for the fight before she found out that she was expecting another child.
The boxer, who trains out of the Forgotten Youth Foundation gym in Albouystown, underwent a rigorous training regimen in the lead-up to the bout.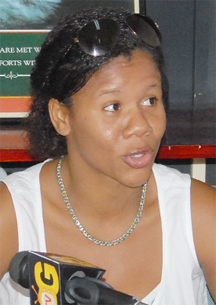 Apart from heated sparring sessions with the likes of former national boxer, Joseph Murray and active boxers, Simeon 'Candyman' Hardy and Dexter 'The Kid' Marques, Alfred's camp had recruited the services of Strengthening and Condi-tioning Trainer, Andrew Hooper, to help her deal with the high altitude conditions in Mexico where she was scheduled to fight the 25-year-old Munoz for the vacant World Boxing Council super flyweight title but it was upon her arrival in Mexico that she learnt that she was pregnant.
In the following interview Alfred raps with Stabroek Sports' Yonalla Dalrymple of the pregnancy and the impact it will have on her career.
YD: – What are your expectations for this year?
SA:- Well, I'm just hoping for all the best; hoping that everything turns out well with me and my baby and hopefully after the baby is born I would be able to put everything back into place if it's not too late.
YD: – Will you be coming back to the boxing circle, if yes, when?
SA: – I would not be able to say when but I would definitely like to get back to boxing because this is something I enjoy. It's my career.
YD: – What was it like to hear that you could no longer take part in the fight with Mexican Zulina Munoz?
SA: – Well, after I heard that it was like a slap in the face and an opportunity wasted because I was prepared for this. I was long awaiting this fight then to be let down to know that I can't fight due to my pregnancy.
YD: – so far how are you getting on with the pregnancy?
SA: – well so far so good. I'm getting along quite okay. I'm healthy and the baby also is healthy so everything is okay.
YD: – Have you been having regular checkups with the doctors on the fetus' health because you were at least six weeks pregnant and were doing heavy training?
SA: – Yes I have been having regular check ups with my doctor and everything is intact when it comes to me and my baby's health. Thank God.
YD: – Were you aware of being pregnant prior to leaving Guyana?
 SA: – I didn't know that I [was pregnant]. I hadn't any sign, nothing. When I did the test in Mexico, the guy called me the next morning and said the test proved positive. I said "what!" It was a shock to me. I guess if my heart wasn't good I would have fell down right there."
YD: – When do you plan to give up boxing as your career?
SA: – I never really had it in thought when I would give up boxing as a career so I wouldn't be able to say.
YD:-What is next for you?
SA: – Well I'll just have to wait and see what the future holds for me, that's all I could do right now.
Around the Web