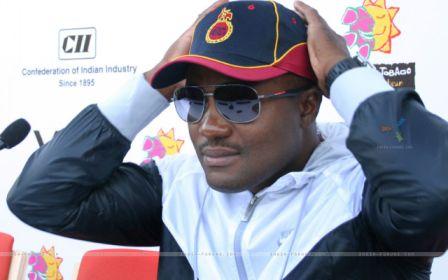 DHAKA,  (Reuters) – The growing popularity of Twenty20 internationals will not harm test cricket because the two formats of the game can thrive together, former West Indies captain Brian Lara said today.
"I believe now with T20 cricket a lot more people are watching the game," Lara told reporters in Bangladesh where he is an ambassador for the country's T20 Premier League.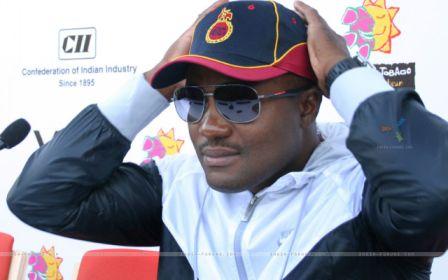 "Just remember, we are all entertainers. And if this kind of cricket brings interest to the people, cricketers will be happy to indulge in it.
"Test cricket is still important, so are ODIs (one-day internationals) but T20 should be there too because of the crowd factor," Lara added.
Lara, who played 131 tests and 299 one-dayers, never had the opportunity to play Twenty20 cricket at which West Indies are the current world champions.
Lara believes the growing popularity of Twenty20 cricket will help West Indies generate more interest in the game among the younger generation.
"In the Caribbean we found it difficult to encourage teenagers to take up the game," said Lara. "We are now launching our own domestic T20 competition. We will try to seek more youngsters play the game in the Caribbean."
"You look at (David) Warner from Australia, (Chris) Gayle and (Virender) Sehwag. They are strong players in the T20 format. They bring a lot more excitement.
"You look at Warner bat in a test match. He can easily score 150 before tea. That's what people want to see. And I think the effect will be a positive one," he said.
Lara, who scored more than 10,000 runs in both tests and ODIs, added that it was unfair to blame the format for bowlers losing interest in test cricket.
"What I think is that the bowlers are pulling away from test cricket probably due to the amount of work. The money on offer in T20 cricket is an attractive proposition for players," he said.
"You'll find a lot more players making themselves available for T20s. But all in all I think test cricket is still very strong.
"This kind of competition (BPL) will make cricket more exciting I believe. Both can go on simultaneously."
Comments

PORT OF SPAIN, Trinidad, CMC – Trinidad and Tobago's Prime Minister Dr Keith Rowley has warned that West Indies could face relegation from the top tier of international cricket if the regional game continues in its current state of crisis.
NEW DELHI, (Reuters) – Royal Challengers Bangalore learnt the hard way that star power does not always guarantee success after succumbing to the lowest ever score in the Indian Premier League (IPL) in Sunday's match against the Kolkata Knight Riders.
COLOMBO, (Reuters) – A fit-again Angelo Mathews will lead Sri Lanka in June's Champions Trophy in England and Wales, the cricket board announced yesterday, unveiling a 15-member squad which also includes maverick paceman Lasith Malinga.
CAPE TOWN, (Reuters) – Former South Africa bowler Lonwabo Tsotsobe has been charged with match fixing and has been suspended immediately after a lengthy investigation, Cricket South Africa said yesterday.

PORT OF SPAIN, Trinidad, CMC – Colin Munro smashed a sensational maiden Twenty20 hundred but it proved in vain as Guyana Amazon Warriors produced an audacious run chase to shock Trinbago Knight Riders by six wickets here Saturday night.