Digicel, in partnership with Banks DIH Limited through its Powerade brand officially launched its third annual National U-18 schools football championships at a simple opening ceremony at the Pegasus Hotel Boardroom, Kingston yesterday.
Regarded as a truly national platform since its inception in the year of 2011 with 128 competing schools, the 2013 edition, which will commence on June 21, will feature over 150 schools from various regions competing in a round robin format.
Director of Sport, Neil Kumar, during the feature address to the gathering, posited that this programme will be the forerunner for the Inter Guiana Games (IGG) initiative while creating a positive attitude and approach for the students.
"This tournament will be a forum that will create an interest in the sport and we must work together for the success of the tournament and the football as a whole," said Kumar.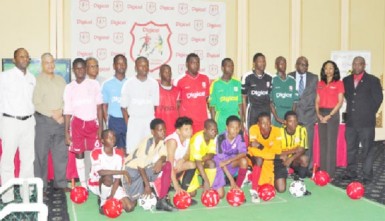 Guyana Football Federation (GFF) President Christopher Matthias said that  the GFF on behalf of its mandate to FIFA, CONCACAF and CFU will continue to support initiatives of this nature as it is a platform of sound structure and good principles.
Sales and Marketing Executive of Banks DIH Ltd., Carlton Joao, congratulated Digicel for creating a tournament that has become an institution whilst stating that he hopes all teams recognize the significance and the opportunity afforded to them and take full advantage of it.
Chief Education Officer of the Ministry of Education, Olato Sam, noted that sport plays a great degree of importance in molding the youth and that this tournament sets an ideal platform that the sport can build on going forward.
"This tournament is of great significance to us and will continue to be a success story for us in the schools and in general" said Sam.
Around the Web