Guyana's first World Boxing Championship promoter Carwyn Holland is now Guyana's first SAMBO Instructor.
For the last three years Holland has been busy honing his skills in other forms of combat sports such as Wado-Ryu Karate and most recently Combat SAMBO which is a modern martial arts and self-defense system developed in the Soviet Union.
Holland successfully completed the International Certification Course for Sport and Combat SAMBO Instructors administered by the International Amateur SAMBO Federation with headquarters in Switzerland.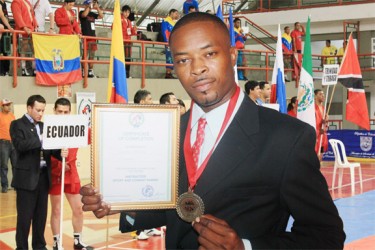 SAMBO, the acronym which means "self-defense without a weapon" in Russian, harmoniously incorporates lots of elements such as Japanese judo, "jiu-jitsu", Armenian Koch, Georgian Chidaoba, Moldovan Trinta, Tatar Koras, Uzbek Kurash, Mongolian Khapsagay and Azerbaijani Gulesh.
Head of Development for Federation International Amateur de Sambo (FIAS), Dr Andrew Moshanov conducted the workshop with the purpose of developing the sport worldwide with particular interest in the Caribbean.
Holland told Stabroek Sport yesterday that he intends to develop a five-year plan to see the sport introduced and spread all across Guyana since it is expected to be the next Olympic Sport and Guyana is rich with talent. He added that SAMBO is the ideal self-defense art for those working in the protective services, in particular the police force as it will reduce the use of extreme force when dealing with civilians. SAMBO, he says, is also geared toward the overall development of a person and is not only useful in self-defense but also in situations where a person may need to brace themselves from falling. He added that over the next few months SAMBO will be introduced to martial arts clubs and he will be paying much emphasis on the FIAS base programme "How to Fall Safely".
Holland recently qualified to represent Guyana at the Upcoming PanAm Games in Panama but subsequently injured his back and will not be able to compete. He is, however, expected to be at the PanAm Games in an official capacity and has since selected Paul Ignatius of the Harpy Eagles Club to take his place.
Around the Web