The question which looms in the thoughts of cricket fans and analysts who just favour stumps flying out of the ground and balls disappearing into the depths of the crowd is will South Africa live up to their billing as the ultimate chokers in must-win contests or will the West Indies rise to the occasion today.
After having won the recent T20 World Cup, the Caribbean team will be hyped for this duel to move on in the ICC Champions Trophy as high confidence among team members  is expected to give them an edge over South Africa who are seen as chronic 'chokers.'
History has shown that West Indies will fancy themselves in this battle, especially since they have been the team to create nightmares for the South Africans and have often been the ones to put them out of tournaments.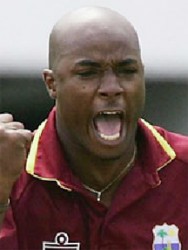 Big hitter Chris Gayle has scored three centuries against the Proteas, two of which were in losing causes while mystery spinner Sunil Narine has played against South Africans in the IPL but has never officially played against South Africa in a tournament.
Players such as David Miller, who had a tremendous outing with the bat in the IPL, have not been able to repeat their magic in the tournament thus far. Recently sacked West Indies skipper Darren Sammy missed out in the opening match against Pakistan where West Indies narrowly defeated their opponents but came into the match against India and smacked four sixes and five fours in his knock of 56 not-out and will now seek to take his batting form forward into this crucial encounter.
Stabroek Sport caught up with newly picked Head Coach of Team Guyana for next month's Caribbean Premier League (CPL) T20 tournament, Roger Harper for his views on the planned encounter.
"We have a crucial game to play today and we definitely need to bat and bowl better, while getting off to a better start than we recently did," Harper said. "We collapsed in the middle order in the previous games; but if we play at our best we are capable of beating any team."
This is the case with players such as Ramnaresh Sarwan, Marlon Samuels, Darren Bravo and his brother Dwayne who needed to step up and provide starts in the middle passage for the team.
Chairman of the Selectors for the Guyana Cricket Board Rayon Griffith echoed the view that they team fell down in the middle order and posited that it needed to be more consistent in providing a solid foundation so that finishers like Darren Sammy and Kieron Pollard wouldn't have to do the majority of the work early in the game.
Griffith also noted that there were not many partnerships among the players and pointed out that if West Indies wanted to have another crack at the trophy, they would need to bat sensibly and build partnerships.
The selector also heaped praise on Shivnarine Chanderpaul for his current form in England. "Shiv should have been considered for this tournament, he is still good enough to play ODIs and is the best batsman we have in the Caribbean, I would have liked to see him in the squad," he said.
On the other hand, observers have noted that Sarwan has failed twice even though he should have been better able than the others in English conditions.
Meanwhile, South Africans will relish the fact that a fit Dale Steyn will be making a comeback in today's match. However, Griffith said West Indies supporters and players need should not worry too much about Steyn.
"It's good that South Africa has their main bowler back in the makeup, but persons should not focus on him too much, instead of the Steyn factor, West Indies should focus more on their bowling which was poor against India," he said.
According to Griffith, "The bowlers were too wide in line which gave the Indians width to play with, they need to stick to their guns and bowl wicket to wicket." The Windies have a 90mph bowler on their bench in Tino Best who Griffith said has been bowling well in recent times. "Best has improved a lot over the past year or so and he should be given a chance today," he said. "If he remains on the bench we will never know how good he is or has gotten, Roach did not bowl to well in the last game so West Indies should take a chance with Best who brings a bit more to the table with his variations and his pace."
The former right arm fast bowler also noted that in order for the West Indies to bring more accolades to the Caribbean they have to score nothing less than 280 runs and give the bowlers something to bowl to.  West Indies defeated England in the 2004 ICC Champions Trophy in a dramatic two-wicket victory. They also played South Africa in their Group B match in Cardiff.
Meanwhile, the Caribbean Media Corporation reported yesterday that rain is forecast for today to such an extent that a no-result is possible meaning South Africa could go through to the last four, courtesy of their superior net run-rate.
However, a reduced overs match could favour the West Indies, given their status as World Twenty20 champions.
Around the Web