CARDIFF, Wales,  CMC – Gutsy West Indies were eliminated from the Champions Trophy in remarkable and unfortunate circumstances after their rain-marred Group B match against South Africa ended in a tie on the Duckworth Lewis method.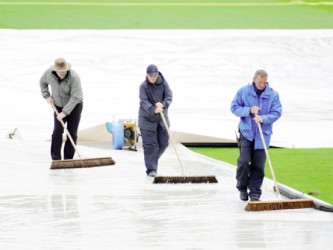 The West Indies, who had to win the match to go through to the last four, were exactly level on the Duckworth/Lewis system for rain-affected matches at 190 for six off 26.1 overs.
Both teams finished on three points but the South Africans have advanced on the strength of a better net run rate.
The heavens opened up again to bring an early end to the game as the Caribbean side chased the target.
Kieron Pollard's wicket at a crucial juncture proved to be the turning point in the game.
If Pollard had kept his wicket intact, after scoring a 23-ball 28, West Indies would have been the winners and advanced along with India from Group B.
But the hard-hitting batsman was dismissed by Ryan McLaren just before the rain intervened, dashing West Indies hopes of earning a semifinal berth.
West Indies needed 41 runs off 4.5 overs when play was called off and at that stage, they were required to have scored 193 for six under D/L method.
Darren Sammy and skipper Dwayne Bravo were left stranded at the crease as the on-field umpires decided to call off the match after brief discussion.
Marlon Samuels gave West Indies real hope when he blazed 48 off 38 balls with two sixes after opener Chris Gayle (36) had failed for the third time to convert a good start into a big score.
West Indies lost opener Johnson Charles (16) early into their run chase as he was caught by wicketkeeper AB de Villiers at short third man off Dale Steyn.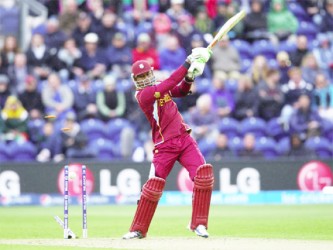 Devon Smith stroked an elegant 30 before he was lbw to left-arm spinner Robin Peterson after an appeal to the third umpire by the South African side when the left-hander was originally given not out.
South Africa ended their league engagements with three points from as many matches while West Indies also finished with the same margin.
India are the other team to have qualified from Group B after finishing their league engagements with four points.
Scoreboard
SOUTH AFRICA
Colin Ingram c DM Bravo b Pollard                                        73
Hashim Amla c Gayle b Samuels                                        23
AB de Villiers c DM Bravo b Rampaul                                37
Jean- Paul Duminy c Charles b DJ Bravo                                 2
F du Plessis run out DJ Bravo                                             35
David Miller c Sammy b DJ Bravo                                        38
Ryan Mclaren not out                                                          7
Robin Peterson not out                                                          0
Extras   ( b2, lb4,w9)                                                             15
TOTAL   (6 wickets; 31 overs )                                         230
Did not bat : Chris Morris, Dale Steyn, Lanwabo Tsotsobe
Fall of wickets 1-80 (Amla, 12.1 ov), 2-124 (Ingram, 17.3 ov), 3-128 (Duminy, 18.4 ov), 4-153 (de Villiers, 22.1 ov), 5-221 (du Plessis, 30.1 ov), 6-229 (Miller, 30.5 ov)
Bowling: Rampaul 6-0-37-1, Best 5-0-35-0, Narine 7-0-47-0, Sammy 2-0-18-0, Bravo 5-0-43-2, Samuels 2-0-14-1, Pollard 4-0-30-1.
WEST INDIES
Chris Gayle c du Plessis b Morris                                       36
Johnson Charles c de Villiers b Steyn                                    16
Devon Smith lbw b Peterson                                                30
Marlon Samuels b Steyn                                                        48
Darren Bravo run out (Amla/McLaren)                               12
Kieron Pollard c Steyn b McLaren                                      28
Dwayne Bravo not out                                                           8
Sammy not out                                                                           0
Extras  (lb5, w7)                                                                      12
TOTAL (6 wickets;26.1 overs)                                              190
Did not bat: Sunil Narine, Tino Best, Ravi Rampaul
Fall of wickets 1-35 (Charles, 6.6 ov), 2-75 (Gayle, 11.5 ov), 3-87 (Smith, 14.6 ov), 4-104 (DM Bravo, 17.5 ov), 5-162 (Samuels, 23.2 ov), 6-190 (Pollard, 26.1 ov)
Bowling: Duminy 3-0-29-0, Tsotsobe 6-0-37-0, Steyn 6-0-33-2, Morris 4-0-30-1, Peterson 4-0-22-1, McLaren 3.1, 0-34-1.
Result: tie.
Points: South Africa 1, West Indies 1.
Toss: West Indies.
Man-of-the-Match: Colin Ingram.
Umpires: Steve Davis, Rod Tucker, TV  Bruce Oxenford.
Around the Web