Responding to Sri Lanka A's first innings score of 314, West Indies A , who resumed on 155 for three, were dismissed for 294 in the afternoon after reaching 258 for seven at lunch on the final day of the four-day match .
Deonarine, who was not out 58 overnight with opener Kraigg Brathwaite on an undefeated 70, played a responsible knock of 110 that helped to revive the hometeam's innings after they were 44 for three at one stage.
He and Brathwaite shared a fourth-wicket stand of 123 before Brathwaite was bowled for 77, falling as the first of five wickets for Sri Lankan left-armer spinner Malinda Pushpakumara.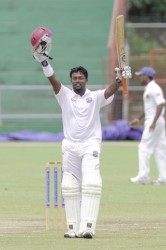 The left-handed Deonarine played with a solid mixed of defence and aggression and reached his century off 179 balls, while striking 13 fours. He was dismissed just before lunch as he attempted an ambitious stroke off Pushpakumara and was caught at midwicket. The last three wickets added 36 runs for West Indies as Pushpakumara checked the opposition with five for 94 from 30 overs.
Batting a second time, opener Udara Jayasundera stroked an unbeaten 50 for Sri Lanka A as he an K. Vithange (42) put on 80 for the second wicket as the visitors ended on 140 for three.
West Indies bowler Johnathan Carter, who took three for 51 in the opposition's first innings, finished with two for 44 on Saturday. The second day of the four day match was rained out while the third day's play on Friday was also hit by intermittent showers.
Scoreboard
Sri Lanka A first innings 314
West Indies A first innings 155 for 3 (overnight):
West Indies A
K. Brathwaite b Pushpakumara                                70
A. Fudadin c de Silva b Lakmal                                   1
K. Edwards b Lakmal                                                    1
L . Johnson c de Silva b V. Perera                             12
N. Deonarine c V Perera b Pushpakumara           110
J . Carter lbw Pushpakumara                                     17
C. Walton lbw Pushpakumara                                   22
N . Miller c Silva b Lakmal                                          13
V . Permaul c Silva b Lakmal                                      12
S. Cotterell not out                                                        11
M. Cummins b Lakmal                                                  0
Extras : ( b8, lb 6, nb 11, )                                           25
Total (all out)                                                      294
Fall of Wickets: 1-6, 2-11, 3-44, 4-167, 5-204, 6-252, 7-258, 8-278, 9-294, 10-294
Bowling: Lakmal 19.2-2-55-4 ; V Perera 17-450-1; Kaushal 18-2-74-0 ;de Silva 4-1-7-0 ; M, Pushpakunara 30-5-94-5 .
SRI LANKA A 2nd Innings
Udara Jayasundera n o                                               50
Dimuth Karunarathne c Johnson b Cotterell           2
K . Vithanage c Brathwaite b Carter                         42
A . Perera c Edwards b Carter                                   34
A. Priyanjana not out                                                    2
Extras: (nb 7, w3)                                                         10
Total: (for 3 wickets)                                        140
Fall Of Wickets: 1-8, 2-88, 3-136
Bowling: Cotterell 4-0-33-1 (3nb), Cummins 8-1-37-0 (1nb), Carter 8-0-44-2 (3nb,3wd), Fudadin 3.2-0-25-0
RESULT : Match Drawn
Around the Web