After partnering with the Guyana Boxing Association (GBA) last year to box off three successful tournaments, the Demerara Distillers Limited (DDL) will once again brand and sponsor this year's three upcoming competitions, the first of which will be staged today.
In excess of 40 amateur pugilists will compete for medals in the first two-day DDL under-16 competition from 10:00hrs at the Andrew 'Sixhead' Lewis Gym.
The tournament, which is sponsored under DDL's Gatorade and Pepsi brands, is scheduled to attract Simon Pures from Young Achievers, Carryl Boxing Gym, Essequibo Boxing Gym, Harpy Eagles, Forgotten Youth Foundation (FYF), Guyana Defence Force (GDF), Rose Hall Jammers and the Pocket Rocket Boxing Gym.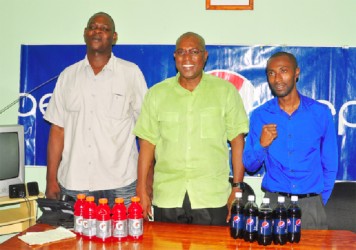 "DDL under its Gatorade and Pepsi brands is pleased to announce the first tournament of the second annual under-16 tournament which will start tomorrow," said DDL's Brand Executive for Gatorade and Pepsi, Larry Wills at yesterday's press briefing at the Ministry of Sport.
"We hosted three competitions last year and we were very pleased at how they were executed and we thought it was worth doing again this year.
"DDL loves to give back to the community and this is one way of doing such," he added.
He went on:"DDL will be providing Gatorade, the world best sports drink to keep them hydrated and we look forward to two entertaining days off an elite and successful competition."
President of the GBA, Steve Ninvalle, thanked Wills on behalf of DDL for supporting the tournament once again and urged the public to support the event by attending.
Ninvalle told the media that a panel of coaches will decide the best boxer for the tournament and said that the GBA will explore avenues for providing a scholarship to a local learning institution for the recipient.
The GBA head also disclosed that the other tournaments will be staged in Essequibo and Linden in October and December respectively.
Technical Director of the GBA, Terrence Poole, said that last year's tournament bore fruit as three of the under-16 competitors Stephan Green, Travis Fraser and Joel Williamson have graduated and will represent Guyana at the South American Youth Games in Peru in September.
Poole, who also encouraged boxing fans to attend the competition, reminded the media that the event is geared for boxers 16 years and under.
Around the Web