The third edition of the Digicel National U-18 Secondary Schools Football Championships which concluded on Sunday at the Police Sports Club (PSC), ground, Eve Leary has been nothing short of a phenomenal success.
Regarded as a truly national platform since its inception in 2011 with 128 competing schools,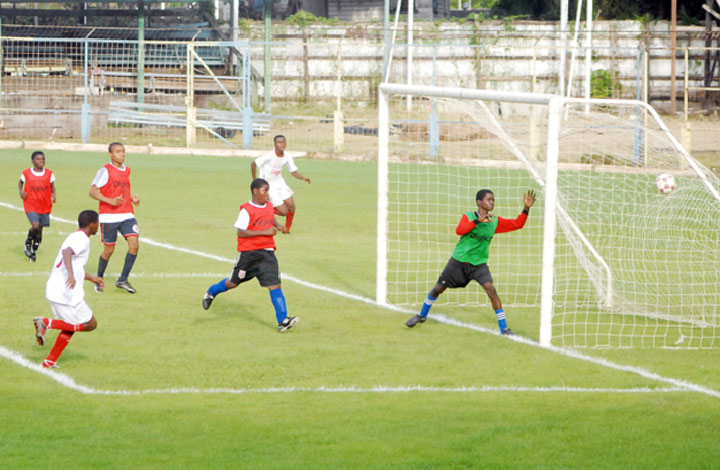 the 2013 edition which commenced on June 21 featured over 160 schools from all 10 administrative regions competing in a knockout zonal format.
With 11 competing zones possessing significantly contrasting styles, this year's edition was much more competitive than previous years and could serve as a game changer on the national football landscape.
Cognizant of the pitfalls that could surround an initiative of this magnitude, the telecommunications giant aimed to deliver an even higher brand of quality football by recruiting numerous former national players and coaches to assist in the development of the schools.
That enterprise of assigning individuals to the various regions to help improve the playing level of the schools was simply a step in the right direction and requires further consolidation going forward in later editions.
National Tournament Coordinator Lavern Fraser-Thomas in an invited comment stated while there has been greater involvement from all the stakeholders inclusive of the Guyana Football Federation (GFF) and the Ministry of Education, the impact and significance of the event cannot be understated.
"The tournament has improved the level of football not only from a school level but from the club level while widening the talent pool of players for national honours. It gives a lot of exposure to players and teams," added Fraser-Thomas.
Questioned about the improvement that can be made to future editions, Fraser-Thomas stated that coaching projects will continue to be assigned going forward to help ensure that the competitive gap between the teams continue to narrow.
Coach of the victorious Wismar/Christianburg Secondary School, Anthony Stephens, also shared these views.
"It is a great tournament that Digicel is doing. The standard and level will increase with every year and the country will certainly benefit at the club and national levels," added Stephens.
Stephens added: "The hope is that the tournament is here to stay because we will see world class football as the level continues to improve with every year."
A concept that has always been required has been created. Providing the opportunities to showcase and expose uncharted potential, Digicel in collaboration with Banks DIH Ltd. through its Powerade brand must be applauded for their efforts and sustained vision.
Around the Web