Adam Harris, national sprint record holder, said yesterday that he will be competing at the International Amateur Athletic Federation (IAAF) track and field World Championship in Russia on Saturday.
Harris, who ran Guyana's fastest 100m in June and holds the record with a time of 10.16 seconds, yesterday confirmed his participation for Saturday's championships.
Harris whose participation up to Monday was in limbo yesterday told Stabroek Sport…"Yes! I am going now but there was a lot going on that made it look like I was not going to be attending the Games."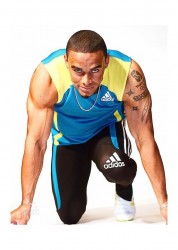 The 2008 Beijing Summer Olympian disclosed that he got his ticket but did not say whether or not the Athletics Association of Guyana (AAG) bought the ticket.
Stabroek Sport had reported on Monday that the IAAF had apparently covered the airfare for Harris's teammates Kadecia Baird and Winston George and that the AAG was looking into the possibility of proving funding for Harris.
The US-based athlete, who was the first athlete to qualify with a 'B' Standard time for the Men's 100m, said the AAG had been uncertain as to whether he should compete at this weekend's Games.
"They were giving excuses because I am an overseas-based athlete and did not have the 'A' standard," Harris said.
The 25-year-old Harris said he was confused since the AAG sent overseas-based athletes previously to other championships with 'B' Standard times, "It made no sense…Winston [George] is now pretty much an oversea-based athlete. He trained in Jamaica and now in New York," he said.
Harris added that he was clueless as to who came up with such rules as to whether an athlete who qualified with an 'A' or 'B' Standard should compete, adding that the whole situation made him feel as if the association…. "Just did not want me to go…"
Stabroek Sport understands that the other two athletes, George (Men's 200m 'B' Standard time: 20.59 seconds) and Baird (Women's 400m 'A' Standard time: 51.32 seconds) received their tickets last week.
Harris narrowly missed the Men's 100m 'A' Standard with a 10.16 seconds finish at the Colts Neck 27th New Jersey International Invitational in June.
Harris will run the Men's 100m at the Luzhniki Stadium on Saturday morning with Baird contesting the Women's 400m in the afternoon.
George is scheduled to run the Men's 200m heats on August 16 (Day 7) in the morning session of the Championship.
Harris along with George, Baird and Coach Shaun Dietz are expected to leave for Russia this morning.
AAG president Hutson, who will represent Guyana at the IAAF Congress, has already left for Russia, Stabroek Sport has learnt.
Around the Web