Guyanese table tennis players kept themselves in the hunt for singles glory with eight players advancing to today's quarter-final rounds of the boys and girls Under-11 and Under-13 categories as the eighth annual Pre-Cadet and Cadet Caribbean Table Tennis Championship continued yesterday at the Cliff Anderson Sports Hall.
For today's quarter finals in the U11 category, Guyana's Neveah Clarkston and Salanas Jackman, the numbers one and two seeds drew byes while Abigail Martin, the third Guyanese remaining in the draw will face Trinidad's
Shurjah Welch.
The other quarter final match will pit Aruba's Mikayla Mathilda against Trinidad's Ackayla Lucas.
In the girls U13 category only Priyanna Ramdhani and Kristie Lopes made it through to the last eight.
Ramdhani will face Idelsa Baez of the Dominican Republic while Lopes will play Shanekah Johnson of Trinidad. The remaining quarter finals matches will see Jasher De Gannes against Ray J Thomas in an all Trinidad affair while Barbados' Jazel Griffith will oppose Trinidad's Chelsea Fong.
In the boys U11 division Terrence Rausch, Nyron Bissu and Tyriq Saunders are through to the last eight.
Bissu will face Asaba Moore of Barbados; Saunders will face Derron Douglas while Rausch will oppose Messiah Walcott of Trinidad. The remaining quarter final match will see Brandon Lee Young of Trinidad opposing Ronico Sealy of Barbados in what should be a classic.
In the boys U13 category only Khalil Ninvalle and Miguel Wong remain. Unfortunately the two players are down to oppose each other meaning that at least one Guyanese player in this division is certain of a bronze medal.
The other quarter final matches will see Trinidad's  against Jesus Lozano of the Dominican Republic; Ramon Jackman   against  Brandon Beharry  and  Marcus Smith of Barbados  against  Jakeem Welch..
Yesterday Rausch reached the quarter finals with a 3-0 win over Ramon Maxwell while Bissu and Saunders advanced to the quarter-finals by virtue of byes.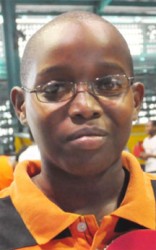 Their teammate Kaysan Ninvalle lost 1-3 to Trinidadian Derron Douglas.
In the boys U13 category Khalil Ninvalle defeated Aruba's Ethan De Lange 3-1 while Wong secured a bye.
Guyana's Jeremy Singh, on whom hopes rested for a medal, went under to Trinidad's Jakeem Welch 0-3.
In the girls U11 group stage Clarkston beat Trinidad & Tobago's Shreya Maharaj and Ackayla Lucas 3-nil and 3-2 respectively while Jackman handed two respective 3-nil defeats to the twin island players Shurjah Welch and Shayana Samnarine.
Group three's matches saw Martin gaining 3-1 victory over the Bajan Kaleah Martyr followed by another 3-1 win against Mikayla Mathilda of Aruba.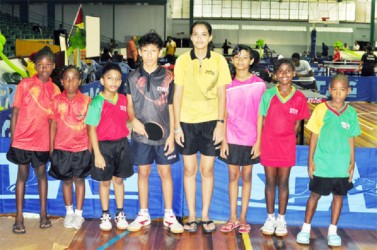 Around the Web