Nicolette Fernandes and Jamaican Chris Binnie retained their singles titles as the individual singles competition of the Digicel 2013 Senior Caribbean Squash Championships powered by Powerade and Smalta concluded at the Georgetown Club Squash Courts on Tuesday.
Fernandes, who is ranked 28th in the world, came up against Barbadian Karen Meakins.
Fernandes was in total control of the match and was never really tested winning in straight games 11 – 4, 11-5, 11-3.
In an invited comment Fernandes stated: "It was great playing at home. It's the first time in quite awhile and it's really nice to have the support. There was a lot of pressure but I am just happy to win."
Losing finalists Meakins said: "It was great tournament. I really enjoyed it. Nicolette is a class player and it's an honour to compete against her. Even though she is a better player I held my own."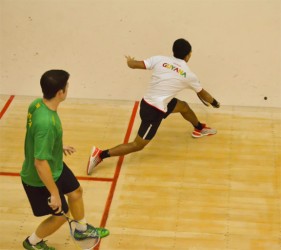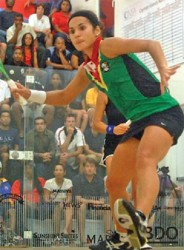 In the men's final defending champion Binnie was pitted against Guyanese Sunil Seth. Seth won the first game 11- 8 but then Binnie settled down and started controlling the T and moving Seth
around the court. He won the second game 11 – 7 and was even more convincing in his win of the third game 11 – 4. However, Seth refocused and as Binnie began to tire he seized the initiative and won the fourth game 11-8. The fifth game was close throughout but Binnie reached match ball at 10 – 6. However Seth would not go down easily and got to eight before Binnie played a drop shot from the back of the court which surprised Seth who just could not get to the ball losing the point and the match 11 – 8. Binnie in an invited comment stated: "It was great game and a long battle in the final.
He pushed me all the way to the edge and it was a long match but I am elated that I defended my title. He was very fit and I need to work on my fitness but I am looking forward to playing Sunil again in the team round."
Seth in a post match comment said: "It was close match. I thought he was the better player. I am looking forward for the team playoffs and looking to make Guyana proud."
In the ladies third place match Guyanese Ashley Khalil proved much too strong for Mary Fung A Fat winning in straight games 11-1, 11-8, 11-3.
In the men's third place match Guyanese Richard Chin was up against Cayman Islands Cameron Stafford. Stafford won a hard first game 12 – 10 but Richard won both the second and third games 11 – 8. These two games seemed to take a lot of the energy from Stafford and Chin won the fourth game easily 11- 2.
The results of the other finals were as follows.
Men's Classic Plate Final
Alex Arjoon Guy beat Gavin Cumberbatch Bar 11 – 7, 9 – 11, 11-2, 11-9.
Men's Classic Plate seventh/eight
Bruce Borrowes Jam beat Mandela Patrick T & T 11-1, 11-6, 11-9
Women's Classic Plate Final
Keisha Jeffrey Guy beat Ashley De Groot Guy 11-7, 7-11, 11-8, 1-11, 11-6
Women's Classic Plate seventh/eight
Gylla Mc Kenzie Bar beat Victoria Arjoon Guy 12 – 10, 11-8, 11-9
Men's Super plate
Rhett Cumberbatch Bar beat Dane Schwier Jam 11-7, 7-11, 11-9, 11-9.
Men's Plate
Kristian Jeffrey Guy won by default.
Women's Plate
Nadia Mc Carthy Bar beat Akeila Wiltshire Guy 7 – 11, 8-11, 11-6, 11-3, 11-8
Women's Plate eleventh/twelve
Kathy Ten Pow Guy beat Larissa Wiltshire Guy 11-7, 11-9, 12-10.
Around the Web