The Demerara Cricket Club (DCC), yesterday concluded its 2013 Cricket Summer camp which focused on the future generation of the club and the country's cricketers with specific reference to the essentials of being an ambassador on and off the field.
The camp, which began last Monday at the club's Queenstown location, hosted various sessions for players belonging to the Under-15, Under-17 and Under-19 levels, dealing with the various on and off-field disciplines of the game.
The first week of the camp, National Coach and the head facilitator, Garvin Nedd did outdoor work with the young players in a bid to imbed in them the essentials of cricket on the field. Lessons of batting, bowling and fielding were taught to the cricketers, who showed their intentions to learn the game on a more in depth scale. The second and final week touched on the off-field topics of the game, such as scoring, umpiring, various methods of dismissal, captaincy, public speaking, hygiene, health and other aspect of cricket.
Lectures about the different topics were done by; Nedd, Matthew Kissoon, Beverly Nelson, Ron Legall, Sheik Sadiq and former West Indies bowler Winston Benjamin. Earlier in the week, Kissoon spoke to the youngsters about umpiring and statistics, while Legall talked about match scoring and statistics.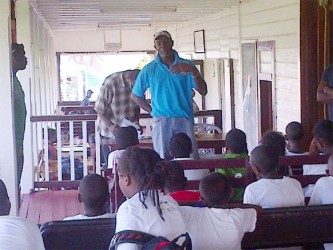 Sadiq, Nelson and Benjamin spoke to the youngsters about public speaking, health and bowling, respectively.
Sadiq, who on the last day spoke about the importance of public speaking, told this newspaper during an invited comment, that he was amazed on how the youngsters quickly grasped the pivotal points of the lessons.
"They were attentive, receptive and participative, they accepted the lessons and I was impressed by students that age, the questions asked and answers given amazed me," Sadiq said.
He also stated that he wished that courses like this continue and students are exposed to this kind of sessions in the future. Nelson spoke to the players on various ways of maintaining a healthy lifestyle, along with dealing with injuries and physical setbacks during or after a match.
Earlier in the week , DCC President, Alfred Mentor said that he was e is so far overjoyed about the turnout the camp has attracted thus far, saying "The turnout is so far exceptional, theses youngsters are students of the game and we are happy to see the involved".
He also noted that he was pleased to see youngsters who were not members of DCC who came out to learn and also signaled their intentions to become members of the club. The camp will officially conclude with a small prize giving and award ceremony nest week at a date to be announced shortly.
Around the Web