Olympian Winston George proved yesterday afternoon at the Guyana Police Force (GPF) annual Gymkhana that he is the fastest sprinter of 2013 after maintaining his winning steak in the sprint events at the Eve Leary Sports Club ground.
The Police Progressive Youth Club athlete, who recently returned from a training stint in the United States of America sponsored by the GPF, won the men's Open invitational 100 and 400m races.
George, a father of two, clocked 10.3 seconds in the men's 100m and 52.1 seconds in the men's 400m, his pet event to capture a sprint double. In the men's 100m, the Athletics Association of Guyana (AAG) 2012 Male Athlete of Year came out of his block ahead of his opponents and maintained his lead to finish a few metres ahead of Patrick King and Chavez Ageday who clocked 10.5 seconds and 10.6 seconds respectively.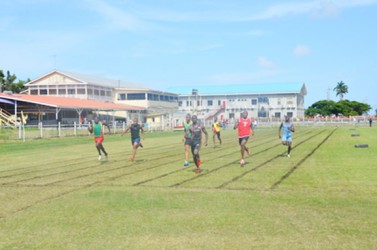 The expected feature event of the day, the men's 400m was not a clash of the titans as South American 400m bronze medalist Stephan James was nowhere at the starting line with George, who participated in this event at last year's Olympic Games in London.
George, who seemed as if he was warming up in the event, clocked 52.1 seconds ahead of his club mate, Shawn Semple who ruled in the 400m in the absence of George at the Police Inter-Division Sports.
Semple, in the process, registered 52.4 seconds ahead of Quincy Simpson who was a few metres behind in 55 seconds. In fourth place was junior athlete Kadeem Peters.
Alita Moore, Boyce and Jefford Classic IV female champion athlete was equally impressive as her club mate George.
The 19-year-old, one of Guyana's 2013 CARIFTA Games representatives captured a sprint double in the women's Invitational 100m and 400m races in 11.7 seconds and 1:02 seconds.
Moore, easily won the 100m ahead of CARIFTA Games 200m bronze medalist Tirana Mitchell and Akelia Alves also of the Police Progressive Youth. The second and third place finishers recorded 11.9 seconds 12.4 seconds respectively.
The sprint star returned later to defeat two of her club mates, Onika Eastman and Juanita Hooper in the 400m.  Eastman and Hooper were behind in 1:04 seconds and 1:07 seconds respectively.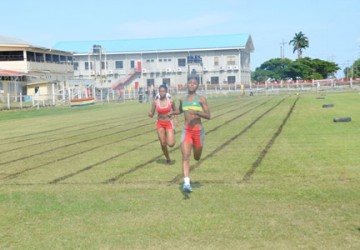 The top three finishers were rewarded with cash incentive prizes for their performances.
Meanwhile, the Athletics Association of Guyana (AAG) will next stage
the Inter-Guiana Games (IGG) trials which is expected to run off in a few weeks and the AinLim 10k.
Around the Web