Julian Edmonds, coach of the South American Youth Games athletics team yesterday predicted medals for Guyana at the upcoming competition which will be held from September 27-29 in Peru.
Edmonds, in an invited comment, told Stabroek Sports yesterday that he expects CARIFTA Games bronze medalists' Tirana Mitchell and Jason Yaw to reach the podium in their respective sprint events.
Edmonds, Head Coach of the Running Brave Athletics Club, said that he had been unable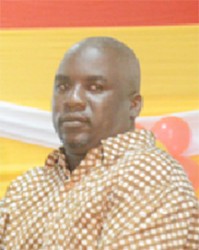 to coach the four-member team of Dequan Vancooteen, Andrea Foster, Mitchell and Yaw as a unit for the games.
However, he said that he was observing the aforementioned athletes at the recent national Inter-Guiana Games (IGG) trials which held last Saturday at Eve Leary ground.
"I looked at Dequan (Vancooteen) and Tirana (Mitchell) while they were competing at the trials last weekend and I spoke with them on a few occasions on what I observed," Edmonds said.
According to Edmonds, the team will have time to get acclimatised to the new environment with at least 5-6 training sessions before the Games commence.
The Guyana team which is expected to leave today, will arrive in Peru tomorrow.
Yaw and Mitchell have exposed to the international level this year when they both made their debuts at the CARIFTA Games in The Bahamas, medaling respectively in the 400m and 200m.
Edmonds said that Foster, who was also a medalist at the games, is at a disadvantage.
Foster, the daughter of Alisha Fortune recently wrote the May-June Caribbean Examination Council (CXC) Examinations. The break from the track resulted in Foster not up to par in her distance events.
"Andrea (Foster) will have to work hard to get on the podium after taking a break off the track for exams," Edmonds opined.
Overall the coach expects a good performance from the team since the Games is of a "lower standard of the CARIFTA Games which has powerhouse athletes especially in the sprints."
Yaw (200m, 400m) along with Mitchell (100m, 200m) and Vancooteen (100m, 200m) will compete in the sprints while Foster runs the distance events (1500m, 3000m).
Eighteen other of Guyana's best under-18 sportsmen and women will compete in six other disciplines including Badminton, Boxing, Cycling, Swimming, Table-Tennis and Weightlifting at the inaugural South American Youth Games.
The other athletes on the national team are: Ambika Ramraj, Narayan Ramdhani (Badminton), Tefon Green, Joel Williamson, Michael April, Travis Fraser (Boxing), Michael Anthony, Akeem Arthur, Shaquel Agard, Alonzo Ambrose (Cycling).
Omar Adams, Hannibal Gaskin, Onika George (Swimming), Chelsea Edghill, Shemar Britton (Table-Tennis), Shariah Melville, Denoila Bristol and Darren Williams (Weightlifting).
Green (junior flyweight), April (flyweight), Williamson (bantamweight) Fraser (light middleweight) as well as Bristol (53kg), Melville (+63kg) and Williams (77kg).
The team will assemble at Guyana Olympic House, High Street at 5:30am today before departing the Cheddi Jagan International Airport at 9:30am for Peru.
Around the Web