A three-member team of Guyana's premier bodybuilders spearheaded by reigning Mr. Guyana, Kerwin Clarke, winged out to the Dominican Republic yesterday to battle in this year's 41st annual Central American and Caribbean (CAC) Bodybuilding and Fitness Championships.
Clarke, who earned the coveted Mr. Guyana crown in July at the National Senior Championships, will lead compatriots, Devon Davis (last year's CAC gold medalist) and Alisha Fortune (reigning Ms. Guyana and three-time Hugh Ross Classic winner) into competition against some of the region's and Central America's best bodybuilders at the championships.
The three sculpted gladiators will be subjected to the weigh in tomorrow while prejudging will be done on Saturday followed by the finals on Sunday.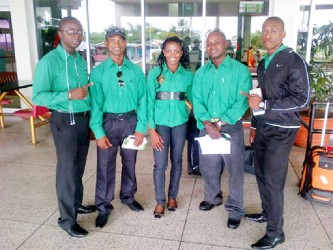 Clarke, who posed and flexed his way to a bronze medal at last year's championships in Puerto Rico, told Stabroek Sport in a recent interview that the three (himself, Davis and Fortune) will be aiming to secure the top podium spots in their respective categories.
"We will definitely be performing to the best of our abilities to represent Guyana and make our country proud by bringing back gold medals," Clarke declared.
The 25-year-old muscle-man who will compete in the welterweight category (165 lbs) has steadily improved his chiseled, award winning physique and has high hopes and for himself and teammates whom he says can come out on top if they all remain focus. Fortune, the local sprint monarch, is a multitalented athlete who has won numerous gold medals on the track as well as the bodybuilding stage.
The fifth place finisher at the 2009 CAC championships will look to better that performance in the Women's Masters and Women's Open categories by snaring a gold medal or at least finish on the podium.
Davis, who is no stranger to winning on foreign soil, will be aiming to mirror last year's achievement or at least finish on the podium in the flyweight division (132lbs).
The athletes were selected by a panel of judges from the Guyana Amateur Bodybuilding and Fitness Federation (GABBFF) last month which included former GABBFF president Frank Tucker who will perform the duties of a judge at the Championships.
Current president of the federation, Keavon Bess, is also journeying to the Spanish-speaking Island and is expected to represent Guyana at several executive meetings as well as the General Assembly
Mervyn 'Spongy' Moses is the coach of the team.
Around the Web